Why do crossfires seem so popular?
Extrajudicial killings have their appeal for a people that feel that their justice system will fail them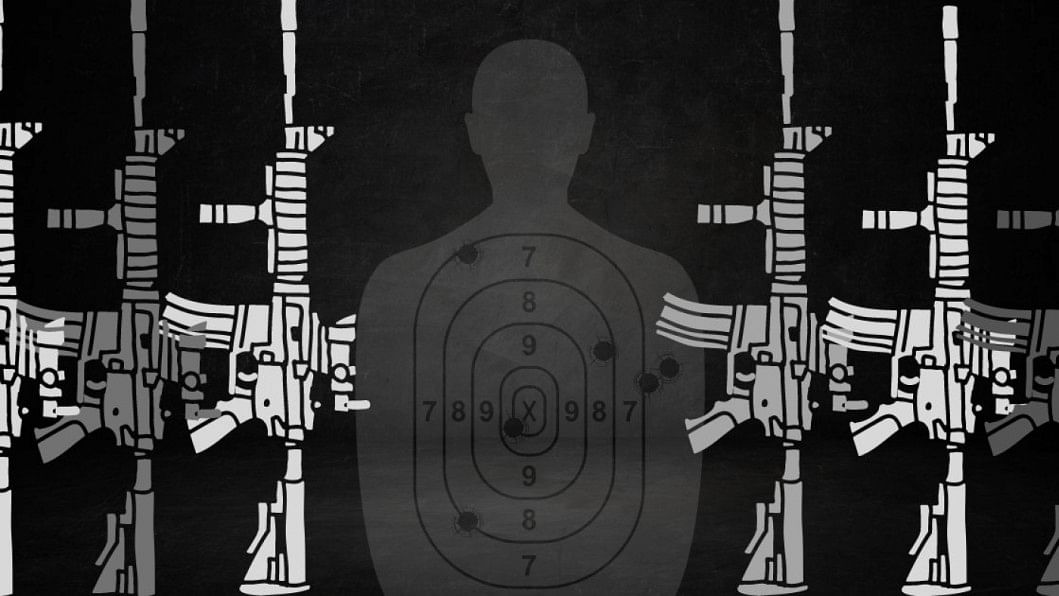 Shaheen Miah, also known as City Shaheen, was killed by the Rapid Action Battalion (Rab) recently in a "gunfight." It is believed that he might have been involved in the sensational murder of Buet student Fardin Noor Parash. Shaheen's brother believes that there was no gunfight involved at all, and Shaheen was simply murdered in cold blood by the law enforcement agency. It is hard to verify his claim, even after he supplied this daily with a video. In any case, the commonly held belief is that these supposed "gunfights," generally speaking, never take place. Instead, they are just euphemisms for events where law enforcement agencies extrajudicially kill people that they think are criminals.
I am not absolving the people who are at the receiving end of these crossfires. Many a time, they are heinous criminals, often charged with drug dealing and even murder. City Shaheen was one such criminal himself. He had 23 cases against him and was wanted for murder. Nevertheless, he should have been brought to the court instead – that is the way of a civilised polity. We must remember as a nation that being an alleged criminal is not the same as being one, and getting killed for allegedly being a criminal cannot be the norm in any way. (In fact, even a convicted criminal cannot be subjected to extrajudicial killing.)
However, this evasion of justice has not exactly appalled the public. Judging by the comments on a Facebook post by this daily that shared a perspective from City Shaheen's wife that he should have been given a chance to defend himself in court, crossfires still remain fairly popular. People on Facebook were exhilarated that such a "scum" like Shaheen was brutally killed. They had a similar reaction when alleged drug peddlers were killed during the government's anti-narcotics drive. Not just the regular people, but even the senior lawmakers of the country have lauded the practice of crossfires by saying in parliament that rapists should be executed using this method.
But why do people love crossfires? Because they have given up on the system, being let down by it so many times that they can no longer trust it to deliver due justice. In City Shaheen's Chonpara area, many drug peddlers have been arrested before, but they have gotten out on bail and continued with their criminal activities. In many cases, these criminals are quite powerful, too, often found having connections with the ruling party and other powerful quarters, which makes it easy for them to evade justice.
Another reason people love crossfires is that it gives them a sort of immediate recourse. The justice system in this country can be tedious. A bullet to the head is faster than that.
There is an element of bloodlust in it as well. When people see some sort of heinous murder, they crave blood for blood. But what they forget is that the tables may turn and they may someday have to be on the receiving end of this "swift justice" without having a chance to defend their innocence.
The element of class apartheid is also visible in this celebration of crossfires. People seem to think that those who are killed in this process are barely people at all. Because there is often a gulf of class difference between them and the criminals, they believe that those in the lower classes are out to get them. Rarely does it enter their mind that people of all classes, criminals or saints, have the same right to justice and must have their day in court with proper legal representation before they can be given strict punishment.
But that does not happen, and people like City Shaheen are killed.
We have courts for a reason. Everyone must have the opportunity to defend themselves, no matter how grave the allegations against them are. The state has a responsibility to protect its citizens and it cannot be a part of the killing of its citizens – especially when it happens extrajudicially.
So what can be done? We must fix our justice system to restore people's faith in it. We need to increase awareness and understanding about legal recourses and justice among people, so that they don't celebrate such miscarriages of justice. At the present stage, people have become so pessimistic about the status quo that, instead of raising their voices to change it, they enthuse about its gross miscarriage that does nothing more than draw blood for blood. Educating them about what the justice system could be and should be would improve our chances of building up a bottom-up movement for reshaping our justice system, free of backlog and corruption, that can properly take charge of punishing criminals through legal means.
Also, if we don't want further sanctions from our foreign friends, we must stop our proclivities to justify the unjust use of force by state security forces.
Anupam Debashis Roy is a member of the editorial team at The Daily Star.