34 militants among 3,245 held on day 3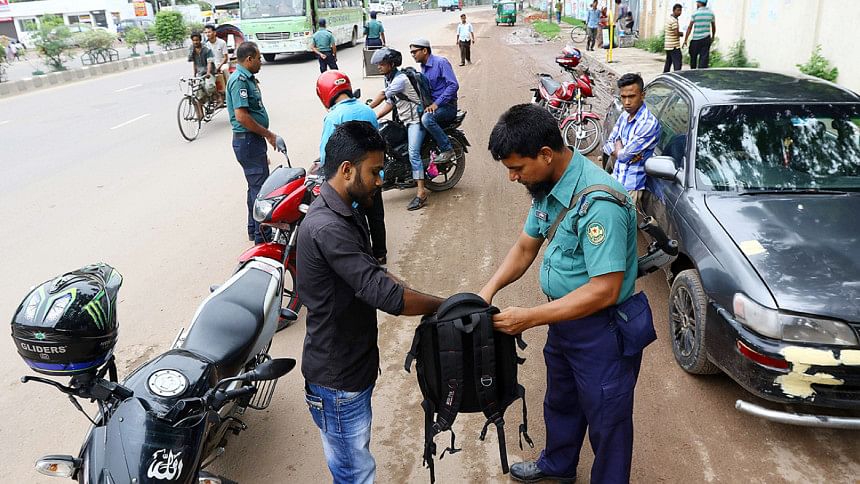 Over 3,200 people were detained countrywide on the third day of the anti-militancy crackdown. Among them only 34 were suspected militants.
A message sent from police headquarters in Dhaka said the total number of detentions made were until 6:00am this morning was 3,245 – mostly wanted men.
Apart from the 34 suspected militants, 2,578 were wanted men, 19 were accused of arms cases, 160 of narcotics-related lawsuits and 454 fugitives of different cases.
The special crackdown began with a primary objective of nabbing militants believed to be carrying out targeted covert killings one after another across the country.
READ MORE: 48 'militants' among 2,000 new arrestees held across Bangladesh
Previously, in the first two days, 5,324 people were detained in the anti-militancy drive across the country. Of them, only 85 were suspected to be militants.
In Natore, 64 alleged criminals were arrested and 18 motorcycles seized, our correspondent reports quoting Rafiqul Islam, assistant superintendent of police in the district.
In Satkhira, 52 including eight activists of Jamaat-e-Islami were held, Kamal Hossain, a sub-inspector at office of Satkhira superintendent of police, told our correspondent.
In Chapainawabganj, 32 people including four Jamaat and an alleged regional chief of the banned Hizb-ut Tahrir were arrested, our correspondent reports quoting Mazharul Islam, officer-in-charge of Chapainawabganj Sadar Police Station.
The alleged militant was identified as Omar Faruk, 40. Police recovered a pistol and a bullet from his possession. He is accused in a case filed under Anti Terrorism Act.