48 'militants' among 2,000 new arrestees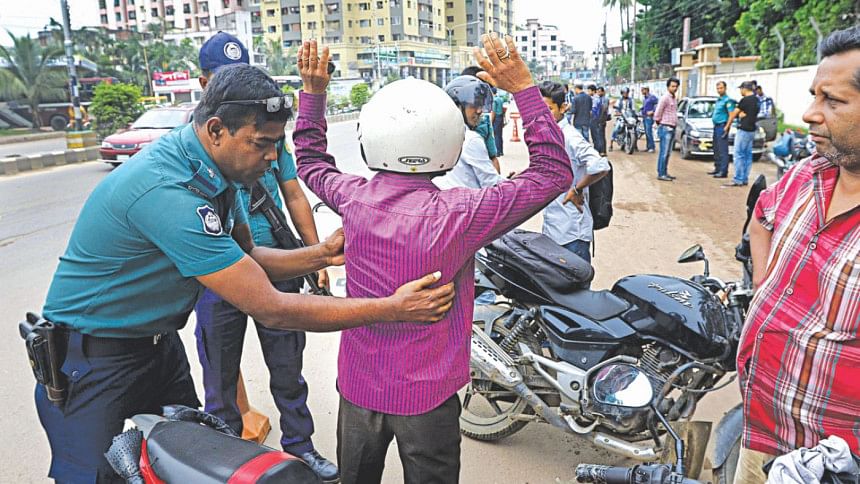 Police arrested 48 more suspected militants on the third day of their countrywide clampdown yesterday, taking the total number of captured "militants" to 85 since the special drive began following Sunday's murder of a top police official's wife by suspected militants in Chittagong.
The special crackdown began in the early hours of Friday, and is primarily aimed at nabbing militants believed to be carrying out targeted attacks one after another across the country.
However, it is not yet clear if any of those arrested was involved in any past attacks that saw dozens of people killed in the last two years or so.
Apart from the 48 suspected militants, police also rounded up 2,084 persons across the country between 6:00am on Saturday and 6:00am yesterday. Many of them are petty criminals, wanted accused in different cases and suspects in arms cases.
The three days' total arrests stood at about 5,300 till yesterday morning, according to police.
Most of yesterday's arrests were made in Tangail, Mymensingh, Jamalpur, Sherpur, Rajshahi, Chapainawabganj, Naogaon, Pabna, Sirajganj, Bogra, Khulna, Narail and Satkhira.
Of them, 1,496 had arrest orders for them in various cases.  Another 391 are accused in narcotics cases, 41 in illegal arms cases and 156 in other cases, according to a statement of the police HQ.
Police also recovered two shooter guns from militants, one bullet, 500 grams of gunpowder, 17 crude bombs, two cartridges, nine machetes and a large number of Jihadi books.
On the first day of the drive, some 3,192 people, including 37 suspected militants, were arrested.
Of the 48 militants arrested yesterday, 47 are members of the banned outfit Jama'atul Mujahideen Bangladesh (JMB). The other is from Ansarullah Bangla Team (ABT), another banned militant group, police said.
BNP leaders in Dhaka and elsewhere say police are rounding up their men in the name of arresting militants.
Police sources in different districts admit that a handful of the arrestees are BNP-Jamaat leaders and activists.
Since 2013, suspected militants have attacked and killed university professors, writers, publishers, secular bloggers, gay rights activists, foreigners, policemen and members of religious minorities, including Shia and Sufi Muslims, Christians and Hindus.
Reportedly, terror group Islamic State claimed responsibilities for many of these attacks. Ansar Al Islam, which claims to be the local chapter of al-Qaeda in Indian Subcontinent (AQIS), took credit for some.
But the government maintains IS has no presence in the country, and squarely blames the opposition parties such as the BNP and Jamaat for those.
Talking to the BBC last week, Home Minister Asaduzzaman Khan Kamal suggested an Israeli link to the recent killings of secular bloggers and minorities.
He said an opposition MP had met an Israeli intelligence agent and there was evidence of an "international conspiracy" against Bangladesh.
He, however, gave no evidence. Israel says the claim is nonsense.
The special drive came in the wake of a string of targeted killings, particularly after the gruesome murder of SP Babul Akter's wife Mahmuda Khanam Mitu.
Top police officials said suspected militants were behind her murder as Babul led several successful anti-militancy drives that might have enraged various terror outfits.
Extremists are suspects in other targeted killings as well.
'HARASSMENT'
Farhad Iqbal, organising secretary of Tangail district BNP, said about a dozen BNP supporters were arrested in the last three days in the district.
The party leaders and activists were panicked because of the drive and many of them left their homes, he added.
Similar claims were made by BNP leaders in other districts.
"Our men cannot sleep in their homes at night in the month of Ramadan as police are raiding those," said Ahsan Kabir, president of Kawkhali upazila unit BNP in Pirojpur.
Pirojpur police Superintendent Walid Hossain dismissed the allegation, saying, "We are arresting listed criminals and suspected militants."
He claimed cops were not harassing any innocent people of any party.
Police sources said suspected militants arrested in Rajshahi are listed by the district Special Branch of police since the JMB's rise in Bagmara of Rajshahi in 2004.
Locals alleged of police harassment in the district's Bagha upazila as well.
Some local Awami League leaders stormed the Bagha Police Station on Saturday, alleging that police arrested two of their party men.
Police later released the two after local AL leaders had heated arguments with the cops inside the police station.
Mamunur Rashid, an AL leader there, himself alleged that police were indeed harassing many innocent people.
[Our district correspondents contributed to this report.]