Criminals busy making it barren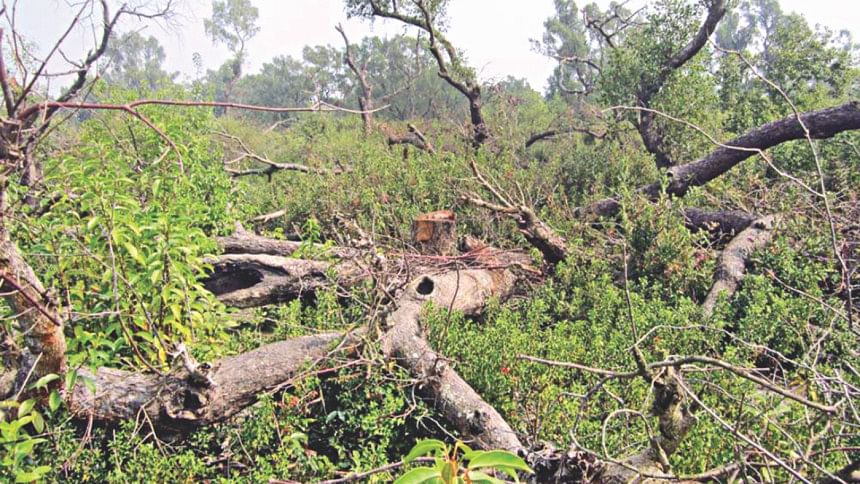 A few gangs are plundering trees from the reserve forest at Gangamati near Kuakata of Patuakhali.
The forest department built the green belt in the area over the years planting different species of trees to protect the region from cyclones, storms, floods, tidal waves and other natural disasters.
The forest is located only four kilometers east off the Kuakata Zero Point.
The criminals are cutting down trees, some of which are over 50 years old. They do this in the dark of the night in the deep forest areas to avoid being caught.
Local sources also said more than one gang is involved in the crime. The stolen trees are taken by trawlers to different local markets and sold.
Gangamati reserve forest has several hundred species of trees, including Chaila, Kawra, Gewa -- all mangrove plants. During disasters like floods, cyclone, tidal waves, storms, many fishermen take shelter under them.
There is also a large lake inside the forest and Kalapara upazila administration has built a bridge over it, making the area a tourist attraction.
The forest spreads over 13,000 acres of land and Gangamati forest office covers about 12,128 acres of it, local forest office sources said.
Abdus Salam, a fisherman in Kuakata area, said over 100 trees aged over 50 years had already been stolen by the gangs.
The criminals use motorised blades for the theft, Mohammad Reaz, a local, claimed.
At least 5,000 trees have been stolen over the last six months, another local, requesting anonymity, said. The gangs are known to the locals and also known to be very dangerous, he said.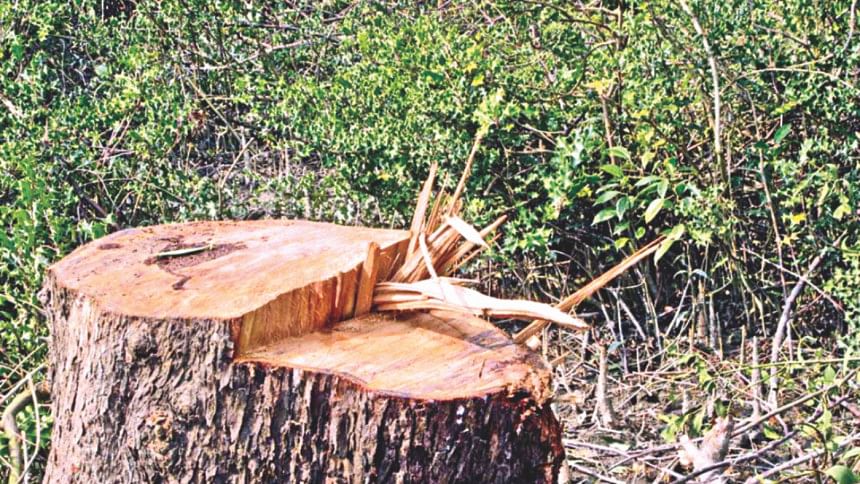 A section of locals have turned some forest land into cultivable land and grow paddy there but forest officials never look into it, he alleged.
If anyone protests, forest officials harass them by filing false cases, it has been alleged.
Gangamati Forest Beat Officer Mohammad Parvez said an unidentified gang is cutting down trees and also turning the forest area into cultivable land.
"These actions are undermining my position and authority," he said.
He pointed out that they have only three forest guards which was insufficient to monitor such a large area of forest.
"I already submitted a complaint to Kalapara Police Station [in this regard]," he added.
Faruque Hossain, Mohipur range officer, said the gang mainly cut down trees in the middle of the night. "Our forest guards are not armed and they cannot face armed gangs."
Contacted, Ajit Kumer Rudhro, Patuakhali Divisional Forest Officer (DFO), said he had asked to the police to take legal action over the matter.
GM Shah Newaz, OC of Kalapara Police Station, said they were investigating.