Blessings sought for mankind as Ijtema ends
Seeking blessings for the Muslims and mankind, Bishwa Ijtema concluded with an Akheri Munajat on the bank of the Turag in Tongi yesterday.
Maulana Muhammad Shamim administrated the second part of the Ijtema, one of the largest congregations of the Muslims, and said the Akheri Munajat (final prayers).
Thousands of devotees from home and abroad took part in the congregation.
This year's Ijtema was held in a single phase with two separate final prayers by two factions of the Tabligh Jamaat.
Followers of Indian preacher Maulana Saad Kandhalvi, led by Syed Wasiful Islam in Bangladesh, took part in the Akheri Munajat yesterday.
On Saturday, the first Akheri Munajat was administrated by Maulana Zubair Hassan, imam of Kakrail Mosque in Dhaka and the leader of another faction.
The congregation was scheduled to end on Monday but was extended by a day for rain.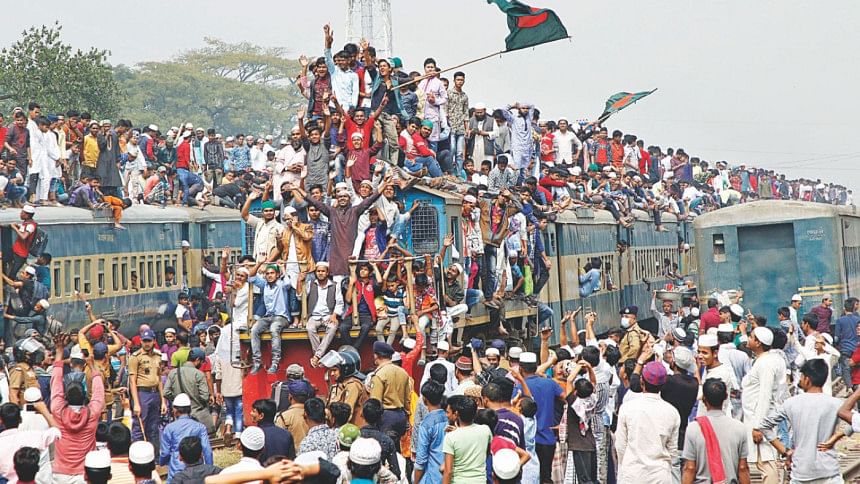 Around 1,200 foreigners from 36 countries and approximately "eight lakhs" people from Bangladesh participated in Ijtema this year, Abul Kalam Azad, a leader of the Tabligh Jamaat, told The Daily Star.
A total of six devotees died at the Ijtema venue this year, mostly because of sickness.
Tabligh Jamaat has been organising the congregation at the venue since 1967.