First Akheri Munajat held
The first Akheri Munajat of the 54th Biswa Ijtema, the second largest congregation of the Muslims in the world, was held on the bank of the Turag river in Tongi yesterday.
Maulana Zubair Hassan, imam of Kakrail Mosque in the capital and leader of a faction of the Tabligh Jamaat, administered the Munajat around 10:45am, seeking blessings and well-being for humankind.
Since 2011, the Ijtema has been held in two phases. However, this year's congregation is underway in a single phase with two separate Akheri Munajat (final prayers) by the two Tabligh factions.
Syed Wasiful Islam, who leads the other group that follows Indian preacher Maulana Saad Kandhalvi, would conduct the second Munajat tomorrow.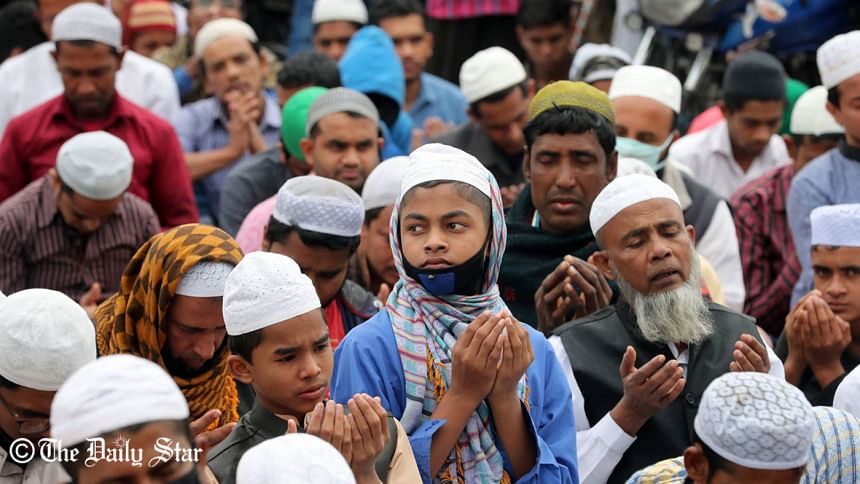 Hoping to achieve salvation and spiritual well-being, thousands of devotees from home and abroad are taking part in the four-day congregation, which began after Fazr prayers on Friday.
During yesterday's Munajat, the devotees sought forgiveness and blessings from Allah. Several TV channels broadcast it live.
The Munajat was conducted in both Arabic and Bangla. The followers of Zubair left the venue after the prayer.
Hefajat-e Islam chief Shah Ahmed Shafi flew in by a helicopter from Chattogram to attend the Ijtema on Friday.
The Gazipur Metropolitan Police set up watchtowers and installed CCTV cameras at the venue for security.
Zahirul Islam Medical College Hospital, Bangabandhu Unani Ayurvedic, Hamdard, Ibn Sina and Jamuna Bank Foundation among other organisations provided health services on the ground.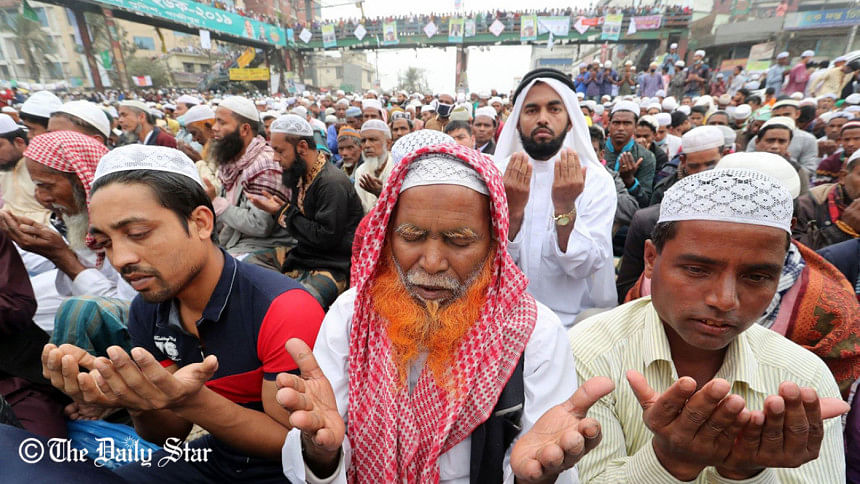 Meanwhile, two more devotees died at the Ijtema venue yesterday.
They are Abul Hossain, 55, of Dhaka and Abdur Rahman, 55, of Sirajganj. Six devotees have so far died at the venue this year.
This year's Ijtema was originally scheduled to be held on January 11-13 and 18-20 in two phases. But the event was postponed due to the December 30 election.
Tabligh Jamaat has been organising the congregation at the venue since 1967.