One-phase Ijtema this year, from Feb 15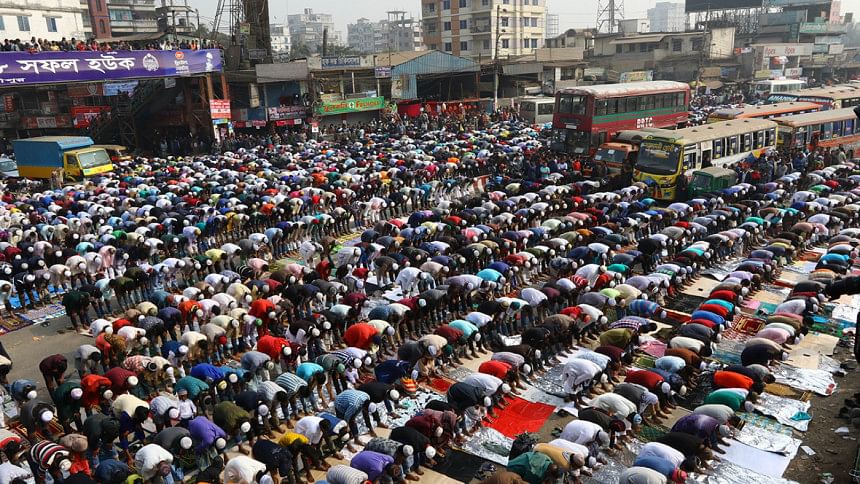 Held in two phases since 2011, Bishwa Ijtema, the second largest congregation of Muslims after Hajj, will be held in one phase this year from February 15-17.
State Minister for Religious Affairs Sheikh Mohammad Abdullah made the announcement yesterday from a meeting held at religious affairs ministry in presence of delegations from two feuding groups of the Tablighi Jamaat, reports UNB.
Mawlana Zubair, Mawlana Omar Faruk, Syed Wasiful Islam and Sahabuddin Nasim were present at the meeting.
Organising the Bishwa Ijtema, also called the World Muslims' Congregation, every year since 1946, the Tablighi Jamaat authorities in 2011 split the Ijtema into two phases, dividing the participation of the 64 districts, to reduce pressure at the venue and ensure better management and security.
The state minister said, "There had been a quarrel between the two factions for long. However, representatives from both factions sat in a meeting on Wednesday. Now, there is no dispute between them."
Home Minister Asaduzzaman Khan Kamal on Wednesday said the Ijtema will be held in February in Tongi as the two factions of Tablighi Jamaat reached an understanding over organising the grand congregation.
The Ijtema's first phase was initially scheduled to be held from January 11 to 13 and the second one from January 18 to 20.
However, a rift developed among the Tabligh members -- well known for humble behaviour and preaching peace -- over the nomination of Indian Islamic scholar Maulana Saad Kandhalvi as the Ameer.
Last month, an elderly man was killed and over 200 others injured in a fierce fight between the two factions over this year's schedule for the Ijtema in Tongi.
The government then postponed the congregation after the two factions announced separate schedules.
Maulana Saad was supposed to administer the Akheri Munajat (concluding prayers) of last year's Ijtema as he did the previous three years. But he had to return home without doing so in the face of stiff opposition from a faction of the Tablighi Jamaat men, mostly students and teachers of Qawmi madrasas of Bangladesh.
The protesters claimed that Saad made "controversial comments about the Quran and Sunnah" in India.
Responding to a query from a journalist, the home minister said a decision was taken that Maulana Saad would not join the Ijtema this year.