5 more devotees die at Ijtema venue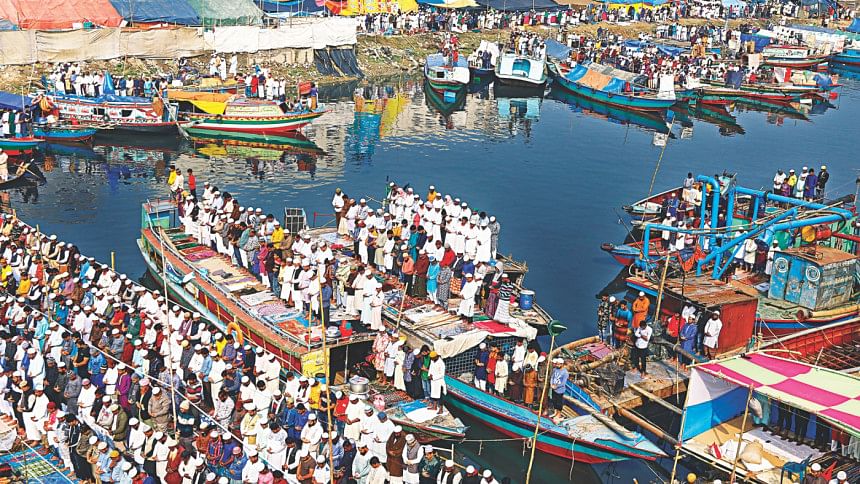 Five more devotees died due to their physical illness at the Biswa Ijtema venue in Tongi of Gazipur between last night and early today.
The deceased were identified as: Ali Azgar, 70, of Gouranadi upazila in Barishal; Osman Gony Yusuf, 45, of Bandar Police Station in Narayanganj; Shahjahan, 60, of Ashuganj of Brahmanbaria; Tamij Uddin, 65, of Debidwar upazila in Cumilla; and Abdur Razzak of Charghat in Rajshahi.
Among them, Abdur Razzak died on the way to hospital on Friday evening after he suffered from heart attack, while the four other devotees died of cardiac arrest at their respective tents since last night, Manjur Rahman, deputy commissioner of Gazipur Metropolitan Police, said today.
With the five people, a total of nine devotees have so far passed away at the Ijtema venue this year.
The first phase of Biswa Ijtema, the second largest congregation of Muslims after Hajj, began on the banks of the Turag River in Tongi after Fazr prayers yesterday.
The Ijtema began with "a'mbayan" (general sermons) by Pakistani Islamic scholar Maulana Obaidul Khorshed.
The first phase of the Ijtema will end on January 12. The second phase will be held from January 17 to 19.
Both the phases will end with separate Akheri Munajats (concluding prayers) on the last days.
Tabligh Jamaat leaders Maulana Zubair and Maulana Saad Kandhalvi with their followers will take part in the different phases.