SC verdict on ATM Azharul's plea against death penalty tomorrow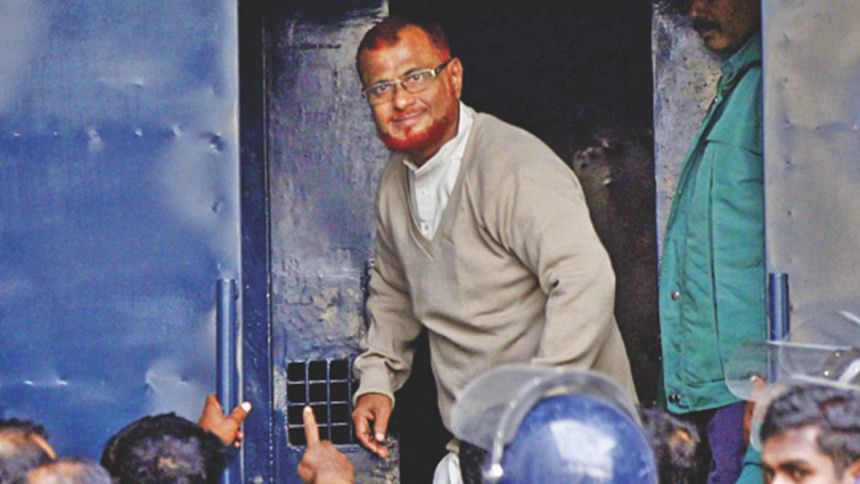 The Supreme Court will deliver its verdict tomorrow on the appeal filed by Jamaat-e-Islami leader ATM Azharul Islam against the death penalty handed to him by a war crimes tribunal.
A four-member bench of the Appellate Division, headed by Chief Justice Syed Mahmud Hossain, will sit at 9:00 am and pronounce the judgment at the beginning of tomorrow's court proceedings. This case is at the top of today's cause list of this court.
Other three judges of the apex court bench are Justice Hasan Foez Siddique, Justice Zinat Ara and Justice Md Nuruzzaman.
This is for the eighth time the Supreme Court is delivering the verdict on an appeal in the case relating to the war crimes, Advocate Shishir Manir, a defence lawyer, told The Daily Star.
On July 10 this year, the apex court bench kept the appeal of Azharul Islam as CAV (Curia Advisari Vult -- meaning it will announce the verdict any day) after concluding hearing on it. The SC held a hearing on the appeal for six days.
During the hearing, Azharul's lawyer Khandaker Mahbub Hossain prayed to the SC to acquit his client of the charges, saying his client was innocent and was not involved in any crimes against humanity or war crimes.
Advocate Mahbub Hossain said the government has implicated his client after 43 years of the country's independence out of political intention, which is unethical.
Neither any case nor a general diary had been filed against ATM Azharul before 2008 on the charges brought in the case, Mahbub said, adding that Azhar was 18 years old during the Liberation War of the country in 1971.
Documents and evidence produced against Azharul in connection with the case are not believable, the defence lawyer argued.
Meanwhile, Attorney General Mahbubey Alam prayed to the apex court to uphold the International Crimes Tribunal's verdict that sentenced Azharul to death. He told the SC that there is no reason for interfering into the ICT's verdict on the case against Azharul.
On December 30, 2014, ICT-1 sentenced Azharul, assistant secretary general of Jamaat, to death for committing crimes against humanity during the Liberation War. Azharul later filed an appeal with the SC challenging the verdict where he claimed innocence and prayed to the Appellate Division to acquit him of the charges.