11 sued over Apr 27 Sundarbans fire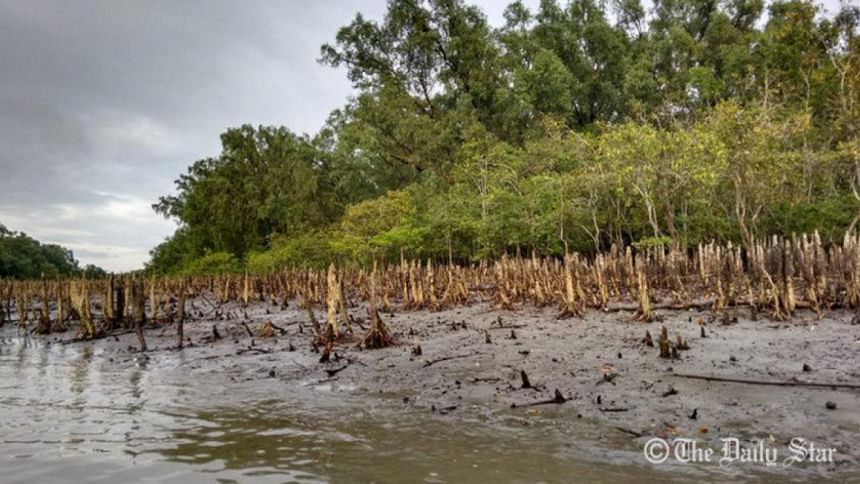 Bangladesh Forest Department filed a case against 11 suspects in connection with the fire that broke out in Tultala area of the Sundarbans under Chandpai Range in Sharankhola upazila on April 27.
Station officer (Dhansagar station) of Chandpai Range Sultan Mahmud filed the case against them with Sharankhola Police Station on Sunday night.
Officer-in-charge of the police station Shah Alam Miah said that the forest department filed the case under section 26 of the Forest Act 1927 for setting fire to the forest.
He said among the 11 people sued in the case, five are unidentified suspects and police have already arrested two suspects -- Nazrul Islam and Sohel Halder of Pochem Rajapur village for their alleged involvement in the forest fire.
READ MORE: Fire breaks out in Sundarbans again
The Sundarbans, the world's largest mangrove forest and a Unesco world heritage site, saw four fire incidents in just one month. Three cases were filed against 28 people in connection with the fire incidents.
According to locals, villagers living nearby the Sundarbans often enter the forest and set fire to it to collect firewood and when the burnt area of the Sundarbans goes under water during monsoon they use it to catch fish. They also use the fire-damaged area as cattle grazing ground during the dry season.
The mangrove forest also suffered recurrent manmade disasters in recent years. A tanker carrying about 350,000 litres of furnace oil crashed in its Shela River on December 9, 2014 while a cargo sank on March 19, 2016.