Forest land lost to govt agencies
Given 1.6 lakh acres for dev projects, other purposes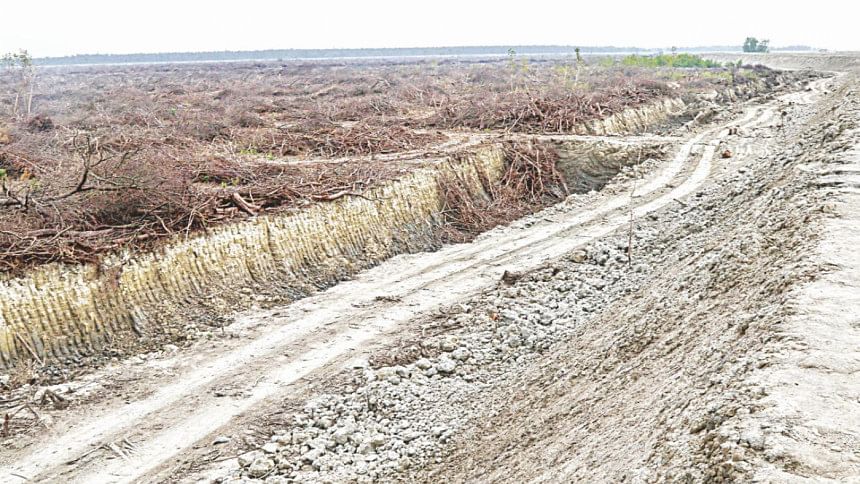 The government is supposed to increase forest land to 20 percent of the country's total landmass by 2030, but the reality is, it is losing land every year to different government agencies who demand land for their establishments and development projects.
Official numbers show that so far Bangladesh has 17.62 percent of its landmass covered by forests and of that the Department of Forest (DoF) has jurisdiction over 10.84 percent.
Sources in the Ministry of Environment, Forest and Climate Change said so far almost 1.6 lakh acres of forest land has been handed over to different government agencies and establishments, or used for development projects.
That is not all; the feasting on forest has not stopped and several government agencies and wings are demanding a huge amount of woodland from the ministry to build their establishments, make recreation centres, cottages, guesthouses, offices, and roads.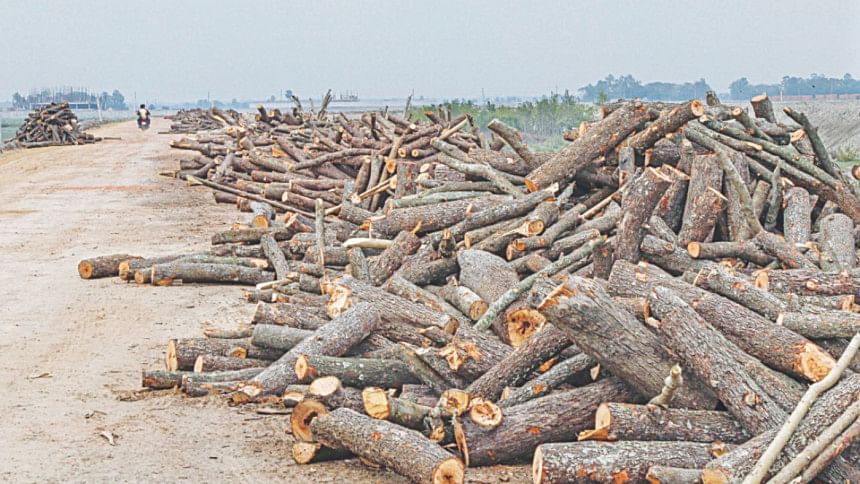 The government aims to stop deforestation by 2020 and have 20 percent of the landmass as forests by 2030 with 70% tree density -- a quantitative measure of tree cover in an area -- as per the sustainable development goal (SDG) finalised in 2015.
But now it seems unlikely the government would be able to do that.
Being worried about failing to meet the SDG, the ministry wrote to the Prime Minister's Office and the cabinet secretary last year and urged authorities concerned to stop acquiring forest land.
Citing the constitution, the letter said it was mandatory for the state to conserve the forest, its biodiversity, wildlife and environment for the next generation.
Furthermore, the official data of the total forest area is believed to be heavily inflated as experts said it includes deforested areas, land given to different government agencies and development projects, urbanised land and illegal occupation. 
Once forest land has been given to government agencies or for development projects, the ministry does not deduct the area from its total forest area, they said.
The ministry also has a curious definition of what is a forest. According to a conservator of forests in Chattogram, two- to five- metre tall trees covering at least 1.24 acres are called forests. This allows a lot of land to be considered forests.  
FORESTATION TO DEFORESTATION
Over the years, the DoF has talked about success in creating coastal forests that act as natural barrier to tidal surges, cyclones, and floods.
But this very achievement is being undermined as the government has started using forests for development projects.
At least 22 projects taken up by the government and deemed important for the nation are on forest land between Mirsharai of Chattogram and Teknaf of Cox's Bazar, according to documents obtained by this paper.
Bangladesh Economic Zone Authority (BEZA), Bangladesh Petroleum Corporation (BPC), Bangladesh Tourism Board, Bangladesh Railway, Power Development Board, Chattogram Development Authority and Water Development Board have projects on a special economic zone, a tunnel, a power station, an LNG terminal, tourist destinations, an economic zone, a road, a rail line to Cox's Bazar and an embankment, according to the data of the DoF. 
For instance, the Mirsharai mangrove forest is three kilometres wide and 20km long and is home to about 5,000 chitals, monitor lizards, crabs, birds and aquatic life.
The dense mangrove forest was created by the coastal division in 1976 and it asked the ministry to recognise 22,500 acres of the forest as reserved forest.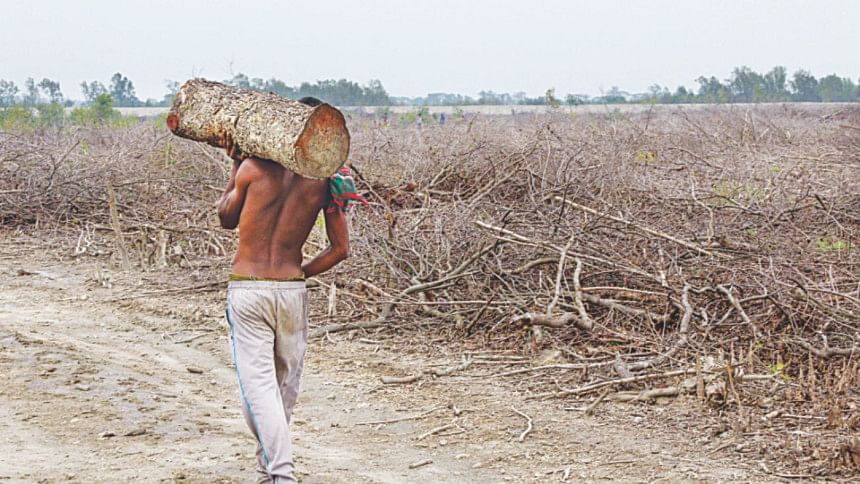 But now, most of the forest has been leased out to BEZA.
The BPC would set up an oil refinery and sought 190 acres of a reserve forest in Moheshkhali -- the nation's sole hilly island.
Moheskhali has 19,768 acres of hilly forest and 12,355 acres of mangrove forest and is home to 70 species of trees and shrubs, 19 species of mammals, eight types of reptiles, and 27 species of birds.
BEZA also plans to develop a special economic zone in Moheshkhali of Cox's Bazar where they would need another 13,000 acres, most of which is expected to be forest land.
Paban Chowdhury, chairman of BEZA, told The Daily Star that they had plans to plant two millions saplings along the Mirsharai coastal belt in a bid to recover the loss rendered by development work.
He said they would plant more trees than they razed in the area.
"Apart from this, we prepared a green economic zone guideline with a taskforce and technical committee to implement the guideline. Every economic zone will follow the guideline. We can't rule out the concern of environment. Without conservation of nature, the development will not be sustainable," he said.
Al Amin, professor of Institute of Forest and Environmental Science, told The Daily Star that he feared the coastal belt was being exposed to natural calamities. 
BEZA should follow the PM's instruction to set up a green belt along the coastal belt, he said.
Al Amin also highlighted new theories like accommodated plan where forest land and development could be merged in a balanced way.
"We need development but that should not come at the cost of our biodiversity and forests. We need coordinated planning comprising of [input from] forest scientists and industrial planners to accelerate the development while simultaneously protecting the forest land as much as we can."
Jahir Uddin Ahmed, deputy chief conservator of forest, told The Daily Star that they were planning a massive forestation along the coastal belt.
"We have already completed a study ranging from Sundarban to Teknaf, discovering the scope for the forestation of 70,000 hectares. A green belt will be created along the coastal area," he added.
He observed that the coastal forest was not only a natural barrier for 30 million coastal people; it also served as sources of livelihood for them.