'Attacker' killed in Ahmadiyya mosque blast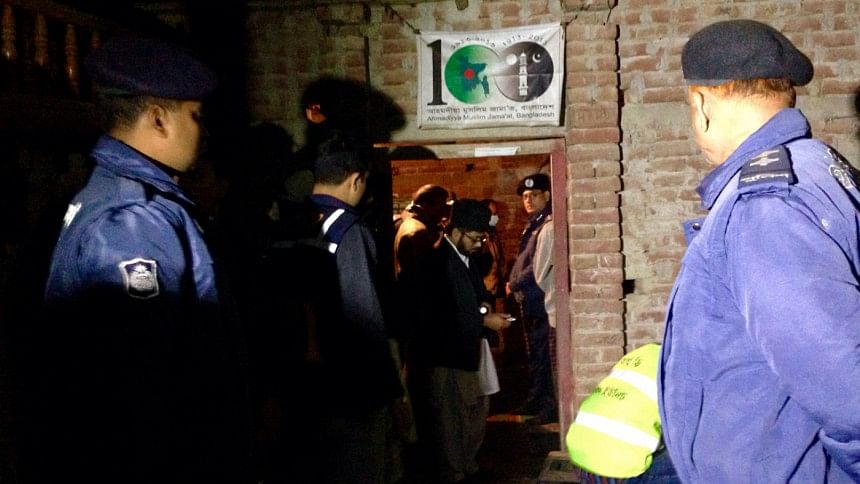 -- Police suspect the attacker died in the explosion
-- Three people injured
At least one person was killed and three others were injured in a bomb attack at a mosque of Ahmadiyya Muslim community during Juma prayer in Bagmara upazila of Rajshahi today.
The around 20-year-old alleged attacker is yet to be identified while the injured were named as mosque guard Moyez Talukdar, 50, Shahed Ali, 35, and Nayan, 11, police said.
Motiar Rahman, officer-in-charge of Bagmara Police Station, told our Rajshahi correspondent that the attack took place inside Chokpara Ahmadiyya Jamaat Mosque in Mochmoil area of the upazila.
"We are suspecting that the deceased is the attacker himself," the OC said.
The injured were rushed to Bagmara Upazila Health Complex, he added.
Golam Mahmud, additional deputy inspector general of police, said the youth tied the circuit of the bomb in his chest and was holding the switch in his right hand.
"That is why we are confirmed that it was a suicide attack," he added.
Many splinter marks have been found inside the mosque.
The attacker wearing jeans, t-shirt and jacket was staying inside the mosque and exploded the bomb around 1:35pm, said Saiful Islam, president of Syedpur-Bagmara unit of Ahmadiyya Muslim community.
"None could consider him as an attacker," the wounded guard, Moyez, said.
Md Salauddin, in-charged with publicity (muezzin) of the community's Rajshahi unit, however said the attacker could not be identified. "So, we cannot exactly say who were behind the attack."
The devotees who were present at the mosque during the incident said the attacker was staying just behind the imam as a devotee and exploded the bomb in the middle of the prayers.
Locals said the followers of Ahle Hadith Andolon Bangladesh (Ahab), which runs a mosque around 15 feet from the Ahmadiyya's teen-shed one, might have carried out the attack.