2 Jamuna TV journos beaten up in Bogura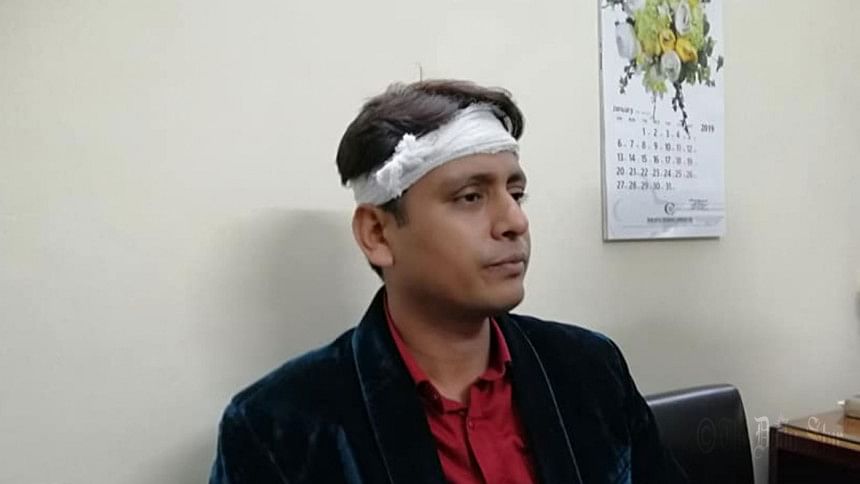 Two journalists of Jamuna Television were beaten up allegedly by a Jubo League activist and his accomplices in Maltinagar area of Bogura town yesterday.
The incident happened when a team of "Investigation 360 Degree" programme of the private TV station went to a drug rehabilitation centre, named Real Life, for an investigative report over various allegations against the centre, run by Jubo League activist Nur Mohammad.  
The victims are SM Zia, reporter of the crime programme, and Tanvir Mizan, the cameraperson.
Three people -- Nur Mohammad, 38, director of the rehab centre, his employees Polash Kumar Das, 33, and Arju, 28 -- were arrested in this connection.
SM Zia said they came to know that the authorities of the rehab tortured the patients and drugs were supplied there.
He added that they went there after informing the deputy director of the Department of Narcotics Control in Bogura.
Zia alleged that when they were talking to patients, Nur Mohammad and eight to 10 others confined them to a room and snatched their camera, cell phones and removed memory card from the camera. The attackers then started to beat them up.
"While beating us up, Nur Mohamad was saying that I am a Jubo League man and bought police and Rab. If we beat you up, they can't do anything," alleged cameraperson Tanvir.
The journalists were confined there for around one and a half hours. The attackers were also capturing the incident on their smart phones and forcing them to tell that they had demanded Tk 2 lakh from Nur Mohammad, Zia alleged.
He said they took first aid at Government Mohammad Ali Hospital.
Shuvasis Podder Liton, president of Bogura Jubo League, said, "Nur Mohamad is a Jubo League activist. But he does not hold any post. If he committed any offence, he has to take the responsibility. The organisation can't take any responsibility."
SM Badiuzzaman, officer-in-charge of Bogura Sadar Police Station, told The Daily Star that hearing the news from other journalists, they went to the spot to rescue the two.
This correspondent tried to contact with Dilara Rahman, deputy director of the narcotics control department in Bogura, for her comments. She received a phone call and said, "I am now busy, I will talk to you later."
When she was phoned again, she did not receive the call.
Kamruzzaman Mia, OC (investigation) at Sadar Police Station, said the victims filed an attempted murder case against the three and some eight to 10 unknown people.
Police arrested the three, including main accused Nur Mohammad, from the spot, he added.