Torch march for Tonu tomorrow, hartal the day after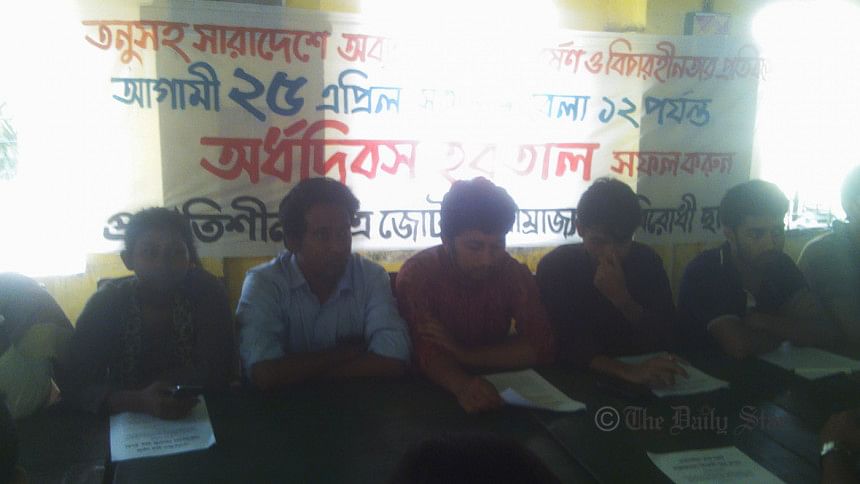 Students will march with torch tomorrow in favour of the half-day countrywide hartal on April 25 protesting government's failure to catch the killers of Comilla college student Sohagi Jahan Tonu.
The announcement came in a joint press conference of Progressive Students' Alliance and Anti-Imperialist Students' Union at Dhaka University this afternoon.
Faisal Mahmud, convener of Anti-Imperialist Students' Union, said the torch march will portray the symbol of fight and protest against repression and abuse on women everywhere in Bangladesh.
"There is a culture of indemnity prevailing. Killers, rapists and wrongdoers are getting away. This must come to a stop. Our movement is against all these," he told at the press conference.
Victoria College student Tonu was found murdered inside Comilla cantonment on March 20. Though a month has passed, apparently there has been no significant progress to identify the killers.
Entire country went on an outrage as comments and opinions flooded the social media condemning the murder. Several protest programmes and demonstrations have been held.
The two major alliances of left-leaning student organisations called for a hartal on April 7 – they day they were barred from besieging the home ministry over the same demand.
They have been campaigning through Dhaka city and elsewhere to make the hartal a success.
According to information disbursed in the press conference, 11 student organisations within the two alliances and about 13 other political parties will be on field "to make the hartal successful".
They also said to have spoken to transport leaders urging them to restrain from plying vehicles in the city and urged all to participate in the "hartal for justice" spontaneously.