Take Muktamoni abroad if necessary, PM tells doctor
Long way to go, says Dr Sen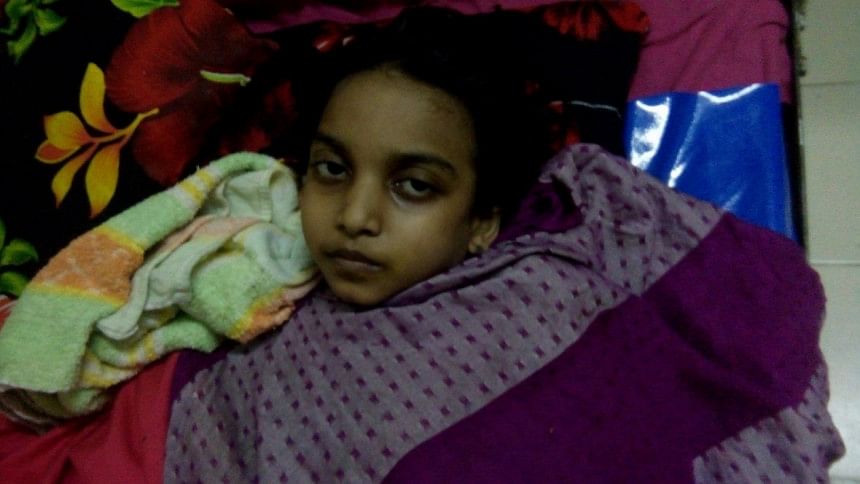 Prime Minister Sheikh Hasina today asked to take Muktamoni, who is now undergoing treatment at Dhaka Medical College Hospital with an unknown disease, abroad if necessary.
The premier came up with the directive when Dr Samanta Lal Sen, national coordinator at National Institute of Burn and Plastic Surgery of DMCH, called on her at the Prime Minister's Office (PMO) at 12:00noon.
She also assured of taking all necessary measures for Muktamoni's treatment and took all information regarding her health condition, Dr Sen told The Daily Star.
Muktamoni, hailing from Satkhira, has been afflicted by an unknown disease mainly in her right hand. The condition led her hand to swell up like a bee hive.
Dr Sen said Muktamoni's medical reports have been sent to Singapore General Hospital and the doctors are awaiting a reply from the hospital on whether it will be possible for them to cure Muktamoni there.
Meanwhile talking to The Daily Star today, Muktamoni expressed her hope that after recovery, she wants to take her 10-months-old brother on her lap first as she has not been able to hold him since his birth due to her disease.
"I also want to go to school again with my sister Hiramoni," she added.
'Long Way to Go'
Muktamoni is showing some signs of improvements. She is experiencing less pain, less pus, and having increased appetite, nutrition and platelets, Dr Sen told The Daily Star.
Although Muktamoni is in a slightly better outward condition now due to medication and advanced care, her belly has slightly swollen and the liver condition has deteriorated a bit, Dr Sen said.
So, we can say that there are good signs, but bad signs also. We have a long way to go", the doctor said.
She is still not out of danger, he added.