Doctors' first priority not to amputate Muktamoni
Muktamoni to undergo surgery at DMCH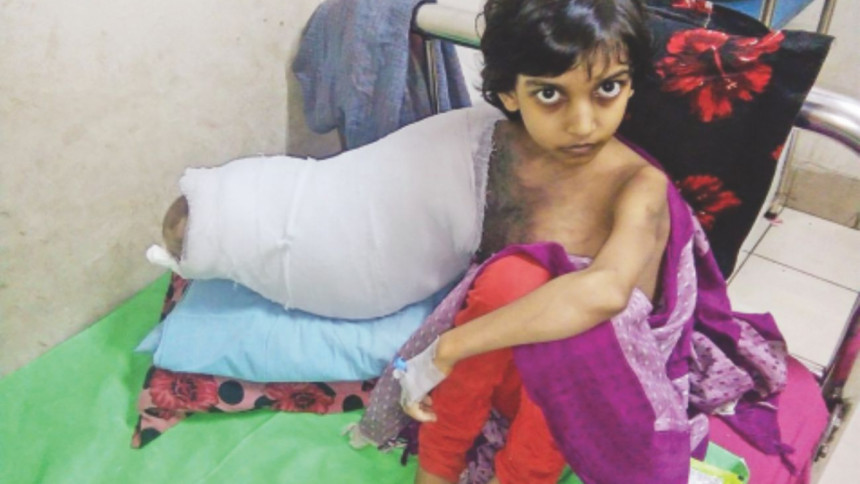 Doctors at Dhaka Medical College Hospital (DMCH) will try to conduct the first surgery on 12-year-old girl Muktamoni, who has been suffering from an "unknown disease", without amputating her right hand.
"We will primarily focus not to amputate her affected hand," said Dr Samanta Lal Sen, national coordinator at National Institute of Burn and Plastic Surgery of the DMCH.
"But to save her life, we may amputate her," Dr Samanta said while addressing a briefing on the updates on her health at the institute.
Her parents have given permission to carry out the surgery considering the risk factors, the doctor said.
Muktamoni, hailing from Satkhira, has been afflicted by the disease mainly in her right hand, the condition leading to her hand swelling up like a bee hive.
She has a number of complications including depletion of platelet counts. Her biopsy --imaging and tissue examination will be done on Saturday and the test is likely to determine her disease, doctors said.
He added that a Singapore-based hospital has stated Moktamoni's condition critical after her medical reports were sent to Singapore General Hospital recently.
After examination of the medical reports, the doctors of the Singapore hospital said, "difficult case".
"She might need amputation," Dr Samanta said.
"Her surgery in Singapore is not possible right now."
Citing the recent success in separating the conjoined twins -- Tofa and Tohura at DMCH, he sought blessings of the country people for Muktamoni.
Prime Minister Sheikh Hasina has taken responsibility of the treatment of 12-year-old Muktamoni, suffering from an "unknown" disease.
Doctors suspect she has been suffering from blood deficiency and poor nutrition.