Another Road Crash: Teen's death sparks protest
10 hurt as villagers in Rangpur clash with cops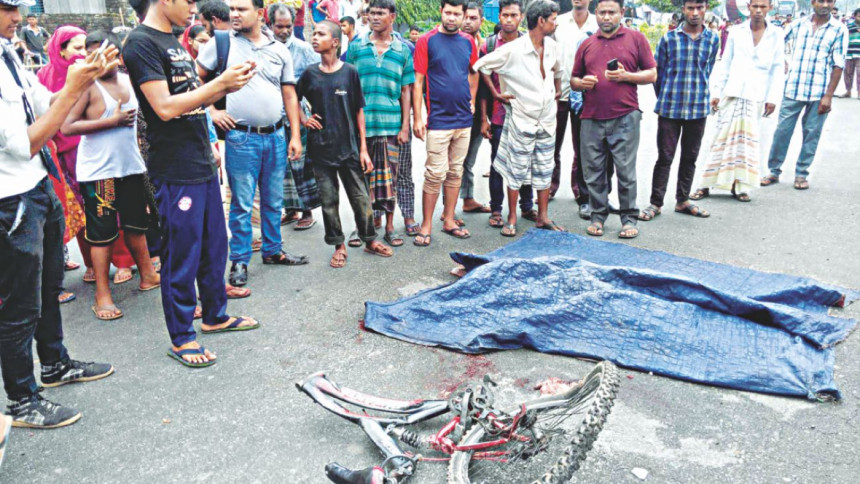 Students and villagers blocked Rangpur-Kurigram road for nearly four hours after a 10th grader was run over and killed by a speeding bus in Ghagatpara area of Rangpur yesterday morning.
Tanvir Ahmed Zion, 15, was going to school riding his bicycle around 11:00am when the bus hit him from behind killing him at the scene, his cousin Masud Rana told The Daily Star.
Driver Insan Ali Sanu, 38, who was arrested in the evening, didn't have the license to drive heavy vehicles, said Mizanur Rahman, superintendent of police in Rangpur.
As villagers blocked the road soon afterwards demanding arrest and punishment of the driver, police used tear gas and rubber bullets and baton-charged demonstrators to clear the road.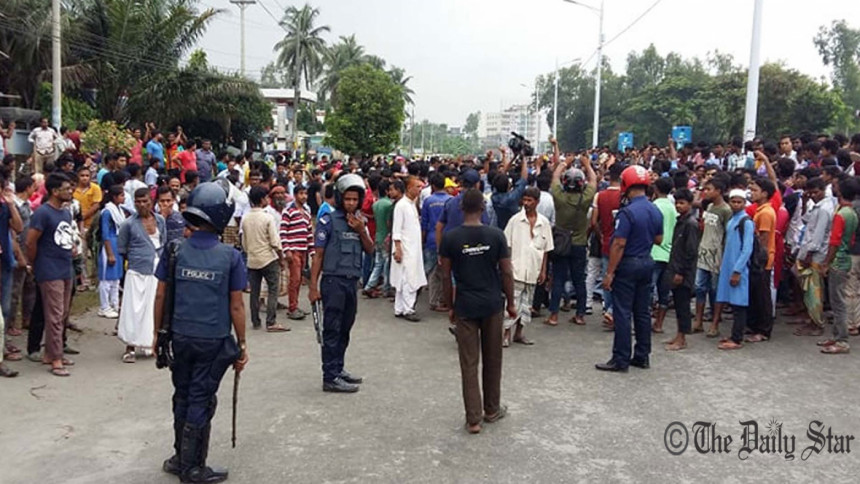 At least 10 villagers and police were injured in the ensuing chase and counter chase.
The country was gripped by mass protests for more than a week after two college students were run over and killed on the road on July 29 in the capital.
Police started observing Traffic Week to strictly enforce traffic laws amid the demonstrations.
Witnesses and locals of the area alleged that the driver was speeding.
Hearing the news, his fellow students of Collectorate School and College blocked Rangpur-Kurigram road. Villagers joined them soon afterwards.
The protest caused long tailbacks on the road. Around 12 buses and trucks were allegedly attacked and damaged.
When police tried to clear the road, the demonstrators said they would not leave until the driver was arrested.
Two policemen were injured as the protesters hurled brickbats at them.
Police fired rubber bullets, tear shells, and baton-charged around 2:15pm.
Road communication resumed around 3:00pm, said Moktarul Islam, inspector (investigation) of Rangpur Sadar Police station.
SP Mizanur Rahman said driver Sanu of Sadullapur and his assistant Badsha Mia, 35, of Palashbari upazilas in Gaibandha were arrested in the evening.
Sanu had the licence to drive light vehicles, he added.
The bus was seized at Rangpur Bus Terminal around 4:30pm by police.
After the victim's body arrived at Mondalpara village of Rangpur's Badarganj, his grieving father Zahidul Islam said, "I sent him to school for education in Rangpur. It would have been better if he stayed here with me. I would not have this fate then."