'Will cooperate with this panel if they work for students'
Auroni Semonti Khan on Ducsu and Shotontro Jote's future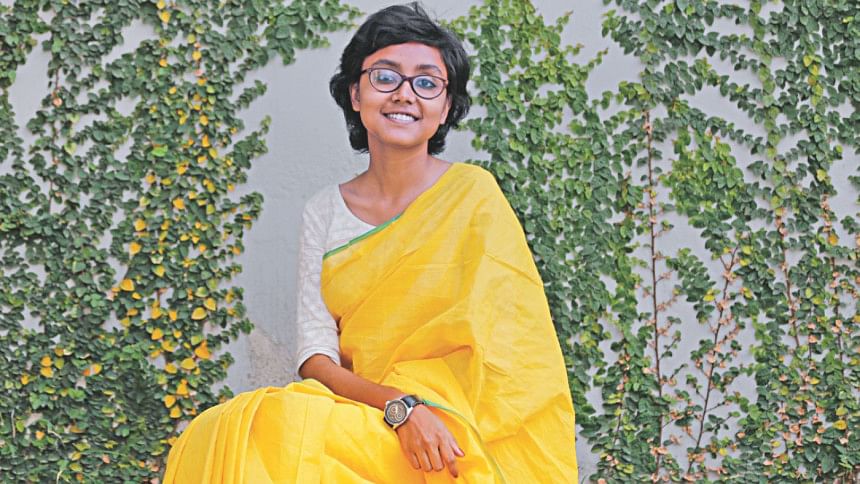 Auroni Semonti Khan is a student of Dhaka University's Genetic Engineering and Biotechnology department. On the brink of completing her master's degree, she chose to contest for the post of vice president in Dhaka University Central Students' Union (Ducsu) election this year. The student politician spoke to The Daily Star in detail about the election, her motivation behind pursuing the post of vice president, and her future plans with Shotontro Jote (an alliance of non-politically affiliated students).
People who receive the Dean's Award usually don't go into politics. What made you do it?
Auroni: DU made me who I am. Taxpayers paid for my education with hard-earned money. I owe these people. I can use my platform to speak for the masses, and I've always wanted to do something tangible for my country and my alma mater.
Of course, my parents are my inspiration. Maybe it's in my blood to speak against injustice -- my father and grandfather were both involved in politics, and my great grandfather actively protested against the British. I believe the power of the people is a beautiful thing, and I want to dedicate my life to this cause.
In a video that has since gone viral, you point to BCL leader Shovon and say he ordered their activists to physically assault you on Ducsu election day. What exactly happened that day?
Auroni: By the time I went to Ruqayyah Hall that day, girls had broken the door of the hall union office and found two ballot paper stashes. I was near the office, with Chhatra League's Shovon standing nearby and Rabbani just a bit far. I was on Facebook live then, and I could hear Shovon saying in a distinct manner "eder maar, maar, dhor." If you listen closely, you can hear it in my [live] video. The scene soon turned violent, my ID card was torn off, glasses almost broken.
You were attacked on the internet after the video of you refusing to take photo with Shovon went viral. What are your comments?
Auroni: This was at the same meeting where Shovon hugged Nur, inside TSC auditorium. While I am glad that Nur was welcomed, I couldn't bring myself to agree to a picture with the same person who had ordered a physical assault on me just 24 hours ago.
BCL activists and supporters turned violent on the internet after that. Aside from online abuse, so many of them reported my Facebook account that it got taken down temporarily. I hope one day BCL will grow out of this culture of attacking people. They could have just discussed this with me.
Many seem to be confused about your [Shotontro Jote] political ideology. Can you clarify this?
Auroni: We do not have any mother organisation, therefore there is no ulterior motive. We operate within DU campus only. Although I have participated in various movements where both neutral and politically active students were present, Shotontro Jote is only focused on campus related issues. We are not influenced by national politics -- Shotontro Jote is by the students, for the students, of the students, just as a Ducsu panel should be.
You withdrew from the election. Why are you protesting the results if you had boycotted it in the first place?
Auroni: We observed the polls till 1pm on election day. We had hoped for a fair election but it was in vain. We rejected the unfair process. Despite that, we still have a right to protest as we have been involved in Ducsu election from the start.
What is your take on the level of participation in political activities by general students?
Auroni: From the ground work that we have done, I would say students are politically aware. I was surprised that so many non-resident students showed up on voting day, and showed genuine interest in Ducsu. I feel that students are slowly warming up to more unconventional candidates.
The current Ducsu panel is mostly composed of BCL activists. Do you think this panel would be effective in solving students' issues?
Auroni: Despite our obvious differences with BCL, we will cooperate with Nur and the rest of the panel only if they truly work for the greater welfare of students. But I will speak against them if they try to implement their mother party's agenda on campus. As the opposition party, Shotontro Jote will continue speaking for students.
What is your plan for Shotontro Jote?
Auroni: Shotontro Jote stays. We will expand and recruit more members. Our strategic plan for the next year is ready, as both future candidates and present opposition party.