What's in a (Scientific) Name?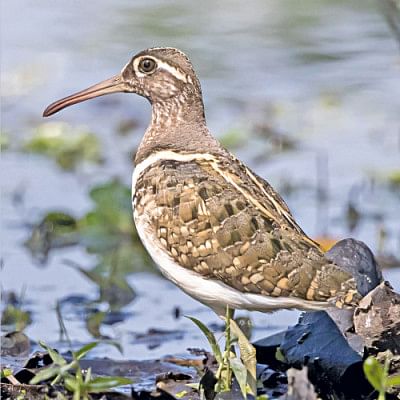 In 1758, the Swedish scientist Carl Linnaeus introduced a naming system for living organisms. It was standardized by scientists worldwide, giving us scientific names for species, The Linnaean system arose from the need to uniquely identify each species and categorize or classify living beings into groups. The common name of a bird may change from country to country, but its Linnaean name remains the same. Thus, a Black-necked Stork in Bangladesh is a Jabiru in Australia but a Jabiru in Brazil is an entirely different bird. There is no confusion over their Linnaean names, however. The Black-necked Stork is Ephippyorhinchus asiatica whereas the (Brazilian) Jabiru is Jabiru mycteria – and that holds true everywhere.
The Linnaean name is in two parts: the genus and the species. A genus groups together one or more similar species. For example, there are twenty-five species of sparrows, all of the genus Passer. Our ubiquitous House Sparrow is Passer domesticus, whereas the Eurasian Tree Sparrow, encountered less, is Passer montanus.
My interest in scientific names grew after reading the Encylopedia of Flora and Fauna of Bangladesh, Volume 26:Birds, edited by Enam Ul Haque et. al. After a detailed description of each past or present bird of Bangladesh, the encyclopedia, like icing on cake, adds the meaning of its Linnaean name. I learned our national bird Doel is Copsychus saularis, meaning "a blackbird of the sun."
Many species are named after the scientist who first described it. For example, the great ornithologist Thomas Jerdon is immortalized by Aviceda jerdoni, or Jerdon's Baza, magnificent raptor of our forests. Yet others honour a scientist posthumously: the Himalayan Forest Thrush discovered in 2016 was called Zoothera salimali. Living scientists are also honoured. In 2019 Hasan Al-Razi et. al. discovered a new frog in Lawacherra and named it Reorchestes rezakhani after our pioneering scientist Dr. Reza Khan.
Some species are named for their home region. Thus, we have the species name "bengalensis" indicating a species found in Bengal. A well-known example is Ficus bengalensis, the Linnaean name of our banyan or botgachh. Literally, it means "a fig tree of Bengal", since Ficus is the name of a large (800) group of trees related to figs.
Which of our 700-odd bird species were named after Bengal? In Bangladesh today we can find several such birds. They are Rostratula benghalensis (Greater Painted Snipe), Centopus bengalensis (Lesser Coucal), Gyps bengalensis (White-rumped Vulture), Dinopium bengalense (Black-rumped Flameback Woodpecker), Ploceus bengalensis (Black-breasted Weaver), Coracias bengalensis (Indian Roller), and Sterna bengalensis (Lesser-crested Tern.) Sadly the Houbaropsis bengalensis (Bengal Florican) – a type of bustard - has been extirpated from Bangladesh but found in small numbers in India and Cambodia. And the Graminicola bengalensis (Rufous-rumped Grassbird) was last recorded here two decades ago.
Two birds from outside Bengal are mistakenly named for Bengal: Bubo bengalensis (Indian eagle-owl) of Assam, and Uraeginthus bengalus, Red-cheeked Cordon-bleu, of Africa.
Places inside Bangladesh have also given rise to Linnaean names. For example, Cuscuta chittagongensis is a plant and Pangshura sylhetensis is a turtle found in Chattogram and Sylhet, Bangladesh.
The discoverer of a new species can be creative in naming it. Thus, Scaptia beyoncea, the Beyonce horse fly discovered in 1989, was named so apparently because of the "fabulous patch of gold hair on its butt." And in 2005, three newly discovered species of slime beetles were named after George Bush, Donald Rumsfeld and Dick Cheney.
facebook.com/ikabirphotographs or follow "ihtishamkabir" on Instagram.