Unmarked speed bumps a nightmare for commuters in Barishal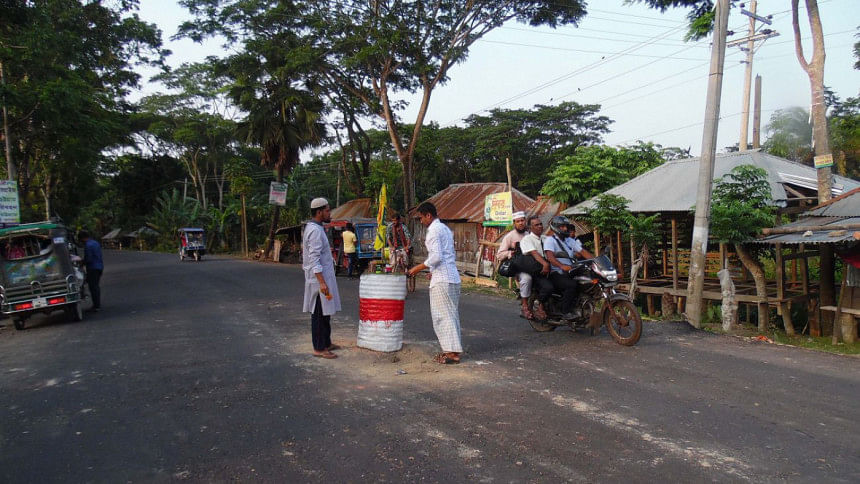 Speed-breakers are meant to slow vehicles' speed, which eventually maintain traffic discipline and curb accidents. But when these bumps are not marked to ensure visibility, they can cause more accidents than they prevent.
Such a situation has been prevailing in Barishal division -- that has 1,360km stretch of highways -- creating a possibility of fatal accidents during the upcoming Eid rush.
Drivers say the speed-breakers are not visible from a moderate or short distances.
Majority of these are not marked with paint, they say.
During Eid, passenger vehicles are generally overcrowded, while a lot of unfit vehicles are often driven by unskilled drivers as well. If vehicles run over such bumps at a high speed, those may flip over, causing casualties.
Many new and inexperienced drivers will operate vehicles before and after Eid, according to several drivers at Rupatoli and Nathullabad bus terminals in the city.
Most of the speed-breakers on Dhaka-Barishal, Barishal-Patuakhali-Kuakata, Barishal-Bhola and Barishal-Patharghata-Khulna highways are left unmarked. Although some are marked with white paint, the markings have faded away, say drivers.
In addition, many steep bumps have increased accident risk. Accident takes place on Barishal-Khulna highway on a regular basis due to the "badly designed speed bumps", says Momen Shikder, a biker, while talking to this newspaper at Jhalakathi College roundabout.
The situation becomes riskier when it gets dark, he says.
"Recently, locals have set up red flags at many unmarked speed-breakers to warn drivers," he adds.
A biker and his pillion passenger were critically injured when the bike fell on the Barishal-Patuakhali highway near Barishal University while crossing an unmarked bump about a week ago, said Jubayer Hossain, a student of the institution, who witnessed the accident.
"My car's bumper is often hit against the speed-breakers while passing through those," says Rafiqul Islam, who usually drives on Barishal-Khulna and Barishal-Kuakata highways.
Mahabubur Rahman, an emergency medical officer at Sher-e-Bangla Medical College Hospital in Barishal, says, "We often get patients injured in road accidents while they were going over the speed-breakers."
On Barishal-Khulna highway, the 19km stretch from Rupatoli to Jhalakathi's Gabkhan Bridge has 20 speed bumps. Of them, 15 have no reflective white stripes.
On the other hand, on Dhaka-Barishal highway, half of the 33 speed-breakers on 33km from Barishal to Gournadi cannot be recognised as their paint has faded.
These unpainted speed-breakers have turned into death traps, says Jamal, a bus driver on Dhaka-Barishal highway.
About the situation, Shushil Kumar Saha, additional chief engineer of Roads and Highways Department (RHD), Barishal, says, "The unpainted speed-breakers will be marked before Eid rush. But it cannot be done on some roads that are under construction."
RHD Executive Engineer Golam Mostafa says the work will be finished within three to four days.
When asked why the problem has been prevailing for a long time, the official avoided the question. He did the same when he was asked why they do not monitor the situation.
The additional chief engineer says for now painting of speed-breakers will get done manually. They will use machines in future so that the paint lasts longer.