The agonising wait
Relatives of those 'missing' in Chwakbazar blaze look for their loved ones; at least18 remains unaccounted for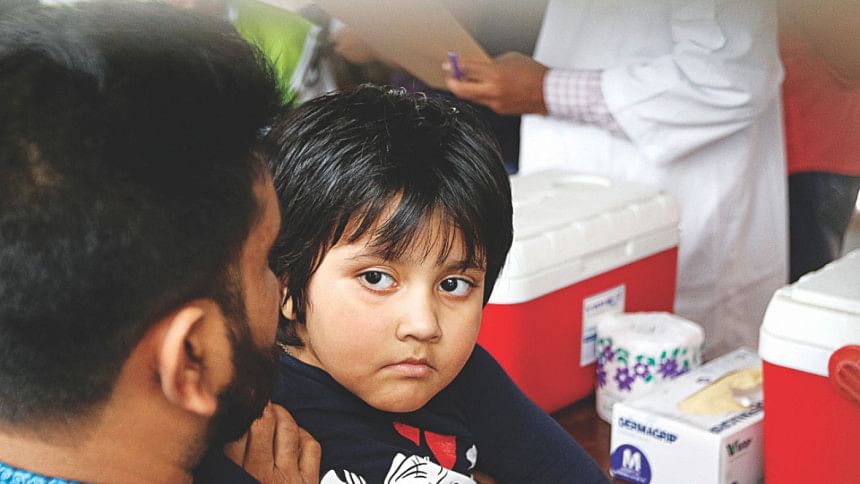 With dazed eyes on a blank face, five-year-old Sanin lay nestled in the arms of her father Suman, who was standing just yards off the Dhaka Medical College morgue yesterday.
The little one's mother had been missing since Wednesday and she must have been wondering where her mother had gone. 
What the child did not know was she was waiting with her father to identify the body of her mother, Shila, 25.
Of the total 67 who were burnt to death in the deadly inferno in Chawkbazar, 46 were identified and handed over to relatives, but others were struggling to identify the 21 victims who were burnt almost beyond recognition in the chemical blaze.
Abu Saleh Mohammad Ferdous, Dhaka's deputy commissioner, said there were 21 unidentified bodies and 18 people were named as missing.
Meanwhile, speaking to The Daily Star around 1:00pm, Suman, an employee of a workshop in Chawkbazar, said his wife Shila went out to bring some medicines for Sanin moments before the fire.
"But she never returned."
Suman feared his wife might not be that lucky.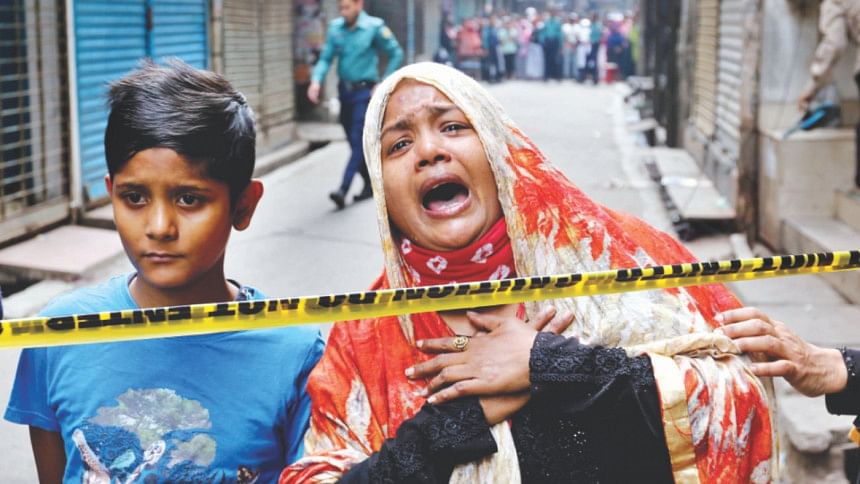 None of those inside Haider Medico, where Shila went to buy the medicines, survived, he claimed.
Since yesterday morning, Suman has been carrying Sanin around in his arms and running up and down through the DMC morgue and the information desk set up yards away.
"I want to see her just once," Sumon cried while talking to these correspondents. 
'DON'T COME HOME WITHOUT SAZZAD'
Similar to Suman's story, Anwar Hossain Manju, 41, who was at the DMC morgue all day yesterday and identified some four people killed in the blaze, had yet failed to trace his brother Sazzad Hossain Dulu, 46.
Dulu owned the pharmacy Haider Medico, a business that had been in operation since 1990. He was at the store that night. But ever since the fire, no one had been able to reach him. Manju was certain that Dulu was no more.
"Why can I not find him among the bodies?" Manju cried, adding, "My mother asked me not to go home [Shunaimuri in Noakhali] without Sazzad."
Another of Manju's brothers, Shahjahan Firoze, returned from Italy to Bangladesh on information of his brother's death. 
"I asked my brother to come home only to console my mother," he said.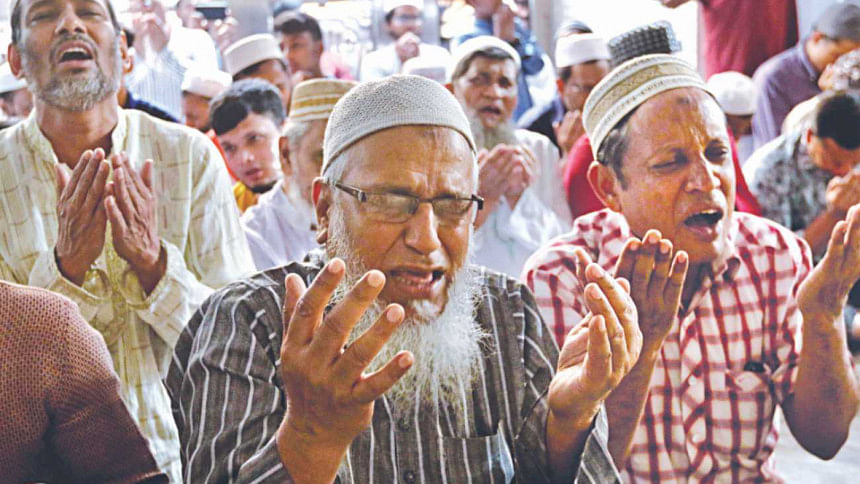 MORGUES OVERCROWDED
Rohan, 22, a BBA student of North South University, had gone to a restaurant in Chawkbazar, along with his friends, from their residence in old town's Agamasi Lane on that dreadful night.
"I phoned him around 10:15pm. Rohan said he was eating at a restaurant with his friends," said Rubi Begum, his mother. After an hour, she heard news of the inferno on TV which prompted her to immediately call Rohan.
But he did not receive the call.
"I was tensed. I went to the spot of the blaze, but police prevented me from going further. I rushed to Dhaka Medical College along with relatives. I searched for him the whole day yesterday [Thursday]. I also searched for him today [yesterday], but I don't see my son," Rubi Begum said amid tears.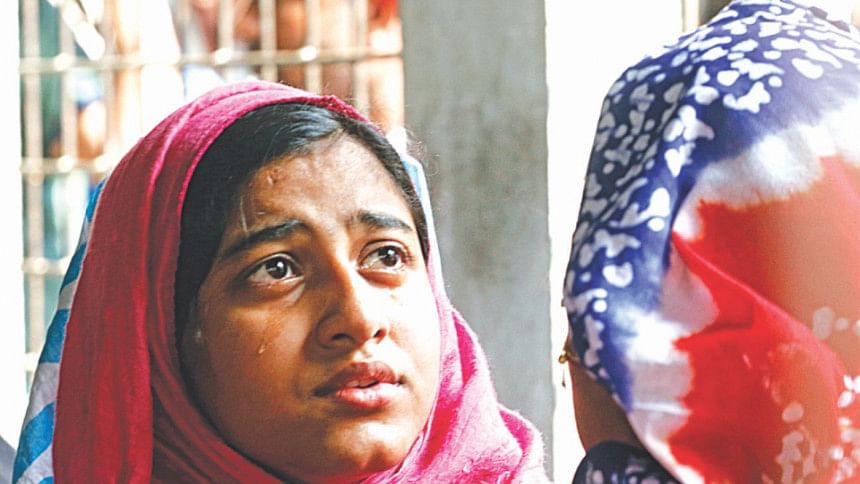 The Criminal Investigation Department collected Rubi's DNA samples in front of the DMC morgue yesterday to cross-match with her son's.
"Give me my son's ashes. I will take it home," Rubi said to one of the morgue workers.
Like Rubi, many relatives have been going from hospital to hospital, unsure of where they would come across news of their loved one.
Of the 21 corpses, which were rushed to the DMC morgue early Thursday, four were transferred to the DMCH emergency department mortuary on Thursday midnight, while others were transferred to the mortuaries of Sir Salimullah Medical College, Shaheed Suhrawardy Medical College, National Institute of Cardiovascular Diseases and Kurmitola General Hospital.
The transfers were made as three of the five fridges of DMC have been out of order for several months, while the two functioning ones were occupied by eight bodies, morgue sources said.
The transfers, however, made it difficult for relatives of the deceased to find the bodies as they had to visit different hospitals.
Sir Salimullah Medical College morgue workers said there were dozens of people going to the morgue to trace their loved ones, but the bodies were so badly burnt that it was difficult to recognise.
CID COLLECTING DNA SAMPLES
Against such a backdrop, the CID has taken DNA samples of the bodies and is collecting the DNA samples of the relatives of the missing persons. The work began at the DMC around 11:00am yesterday, said Nusrat Yasmeen, assistant DNA analyst, Forensic DNA Laboratory of CID.
The CID has collected the DNA samples from relatives of 16 missing people and will match those with the unidentified bodies.
"CID has a modern DNA laboratory. All DNA tests related to this case will be conducted in this lab," she told reporters yesterday afternoon.
 "The bodies are so burnt that it will take time to conduct their DNA profiling…," Nusrat said, adding it would take one to six months.
She also said although they preferred to collect DNA samples of the parents of the deceased, which were better for the tests, they had mainly collected samples from the siblings who had come to provide it. Samples of siblings don't help very much, she added.
"If the parents of the deceased are not alive, their children should provide samples for DNA tests. Besides, their spouses can provide samples. If they are not alive, siblings can provide samples," Nusrat said.
She said they would also collect DNA samples today. If the collection in front of the DMC morgue is not completed by then, the CID laboratory at Malibagh in the city will be open for collection of DNA from the victim's relatives.