WHAT WE KNOW ABOUT THE DEAD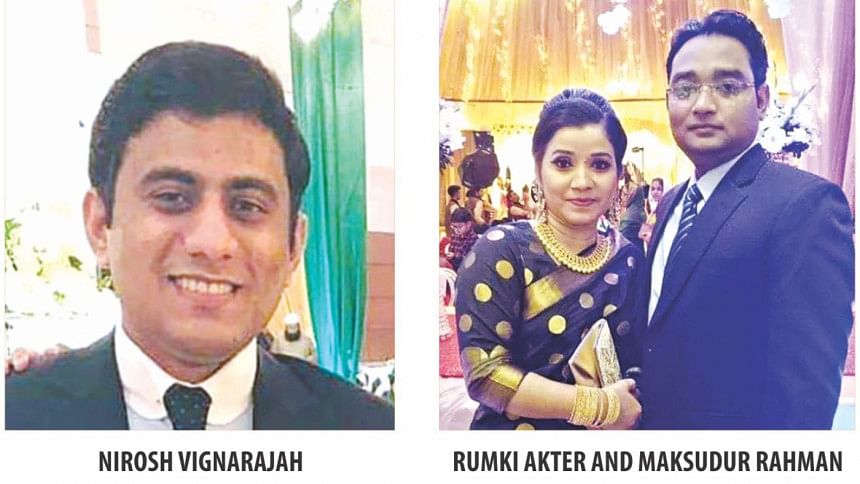 At least 25 people were killed and some 70 injured in Thursday's deadly fire that ripped through the 22-storey FR Tower in Dhaka's Banani area. All the bodies were handed over to the families and most of them buried yesterday.

Here are the details of the 25 dead: 
ABDULLAH AL FAROQUE TOMAL, 32
Abdullah Al Farouque Tomal, a former student of Dhaka University, was a sales manager at EUR Service (BD) Ltd housed on the 11th floor of the building. About 90 percent of his body was burnt before he was taken to Dhaka Medical College Hospital. Faruk was the son of Munsi Mokbul Ahmed, a retired teacher originally from Chandpur's Faridganj upazila.
Faruk used to live in Dhaka's Sarulia with his wife, two daughters and other family members. He was laid to rest at Darul Najat Madrasa Graveyard in Dhaka's Demra following yesterday's Juma prayer around 3:00pm.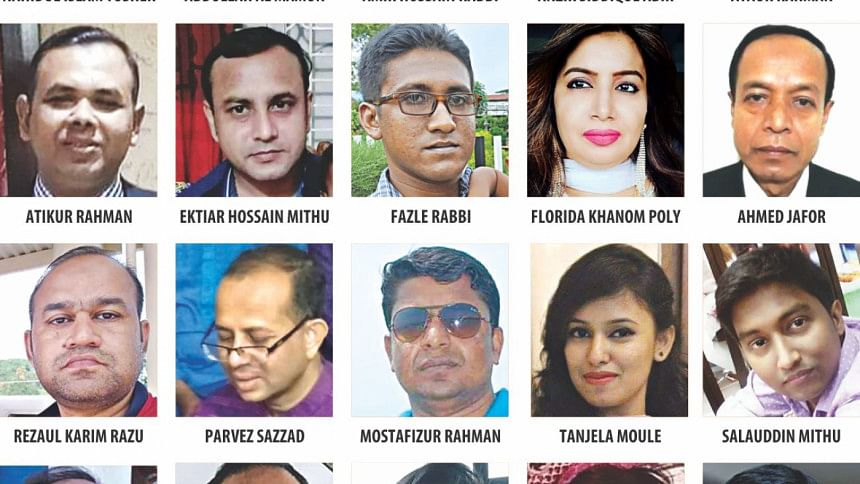 ABDULLAH AL MAMUN, 47

Son of late Abul Kashem from West Baluadanga area in Dinajpur, Mamun was second of his five siblings and had been staying in Dhaka with his wife and two daughters for last 15 years. He was the chief accountant at the Heritage Air Express housed on the 8th floor of FR Tower. He fell down from the building while trying to climb down holding a cable. Critically injured Mamun died at a city hospital.
AHMED JAFOR, 59

Ahmed Jafor, a former high official of Sonali Bank, joined as the chief of transport department at the Asif Enterprise located at FR Tower three months ago. Jafor's family live in their own residence in Dhaka's Mohammadpur. He was laid to eternal rest at Nabinagar Graveyard at his village home in Narayanganj's Sonargaon upazila.
AMIR HOSSAIN RABBI, 29

Amir Hossain was originally from Charpara village of Pabna's Santhia upazila. After achieving his master's degree from Pabna Edward College in 2014, Amir joined a buying house situated at FR Tower. He was supposed to get married after this year's Eid-ul-Fitr.
ANZIR SIDDIQUE ABIR, 27

Anzir Siddique Abir was the son of Abu Bakkar Siddique, a businessman, and Tasrifa Khanam Tamanna, a school teacher. His parents live in Lalmonirhat's Patgram upazila. He was the younger of two brothers. After passing BBA, he joined as an executive at the Mika Securities Ltd located on the 15th floor of FR Tower.
ATAUR RAHMAN, 62

Ataur Rahman used to work at the Heritage Air Express. As the fire erupted, he ran up to the rooftop of the building and made a phone call to his son Erfanur Rahman from there around 1:00pm. He was laid to rest at his family graveyard in Chandpur's Kachua upazilla.
ATIKUR RAHMAN, 42

Hailing from Shariatpur, Atikur was a senior executive officer at Scanwell Logistics on the 13th floor of FR Tower. He came to the capital 15 years ago and started his job life. He left his wife and two children behind to mourn. Atikul called his wife Anny Akhter around 1:10pm and said he got trapped in the fire. This was their last conversation.
EKTIAR HOSSAIN MITHU, 37

Ektiar Hossain Mithu was from Char Baniapara village in Kushtia's Kumarkhali upazila.  Mithu worked as a senior accountant at Frugal Logistics, a freight forward company housed in the FR Tower. 

He completed his bachelor and master's in Accounting Information System from Kushtia Islamic University.

Mithu had been living with his wife and 3-year-old son Ifte Arzoo Mugdho in Dhaka. 

Mithu was the eldest among his siblings.
FAZLE RABBI, 30

Fazle Rabbi was as an executive at the Frugal Logistics Ltd on the 11th floor of the building. He used to commute from Narayanganj to Banani every day. Around 12:00 noon on Thursday, Rabby went out of the building for having tea and made a call to his wife and asked about his two-year-old son Redowan.

After an hour and a half, he informed his father over phone about the fire and asked him whether he should jump off the building. This was Rabbi's last conversation with his family. Rabby was laid to eternal rest at the Bhuigar Graveyard in Narayanganj yesterday.
FLORIDA KHANOM POLY, 45

Originally from Chapainawabganj, Florida Khanam was the manager of Scanwell Logistics Bangladesh Ltd located in FR Tower. She joined the organisation over two years ago as an executive, said Usuf Osman, husband of the dead.

With their only son, the couple used to live in the capital's Rupnagar Housing area.

Florida was laid to eternal rest at his family graveyard in the district's Shibganj upazilla following yesterday's Juma prayer.
JEBUNNESA, 30

Hailing from Noakhali's Begumganj, Jebunnesa was an employee of the Heritage Air Express and used to live with her father in West Rajabazar area of Dhaka.
MAKSUDUR RAHMAN, 32, AND RUMKI AKTER, 30

Rumki was the daughter of Sayed Ashraf Ali hailing from Binnyakuri village in Nilphamari's Jaldhaka upazila. She was the only child of her parents. Her husband Maksudur was a resident of the capital's Gendaria area. Both of them used to work at the Heritage Air Express housed in the building.
MIZANUR RAHMAN, 30

Hailing from Terokhada of Khulna, Mizanur was an employee of Heritage Air Express. He was planning to visit his wife Tania Begum at their village home pretty soon as Tania was expecting their second child. Their first child Tanim is five years old. Mizanur was the only earner of his family.
MONIR HOSSAIN SARDER, 52

Originally from Barishal's Biman Bandar thana, Monir was a senior executive at Heritage Air Express at its Motijheel branch and transferred to the Banani branch only a week ago.
MONJUR HASAN, 49

Psychically challenged Monjur used to work as an accounts officer at Quasem Industries, located on the 20th floor of FR Tower. All of his colleagues could escape the fire except for him. Originally from Naogaon, Monjur used to live in Kafrul area of the capital.
MOSTAFIZUR RAHMAN, 36

Mostafizur Rahman, son of late Abdur Rashid of Kangurpara village in Rangpur's Pirganj upazila, was the eighth of 12 siblings. He was an employee of a private bank housed on the 8th floor of FR Tower. He had been living in Dhaka with his wife and five-year-old daughter.
NAHIDUL ISLAM TUSHER, 35

Nahidul Islam Tusher was second among three sons of Md Ichhak Ali from Bhanuabhaha village in Tangail's Mirzapur upazila. He too was an employee at Heritage Travel Agency. He got married four years ago. Tusher was buried in Tangail.
NIROSH VIGNARAJAH, 35

Sri Lankan national Nirosh Vignarajah used to live in Dhaka with his mother Anusharani Vignarajah and his brother Imayan Vignarajah. Nirosh used to work at a Sri Lankan firm located in the FR Tower. His cremation took place yesterday evening at the Rajabagh Kali Mandir, Kamalapur.
PARVEZ SAZZAD, 46

Parvez was a senior manager at Scanwell Logistics Bangladesh Ltd. He joined the company 15 years ago. Hailing from Kashiani upazila of Gopalganj, he used to live with his wife and only son.

Parvez had his last conversation with his family around 1:00pm. He fell off while trying to climb down with the help of cables hanging from the building. He was buried at his family graveyard in Gopalganj.
REZAUL KARIM RAZU, 40

Rezaul Karim Razu was the owner and executive director of Asif International, housed on the 4th floor of FR Tower. He was the only son of Benu Pradhania, a businessman in Chattogram.

Razu was laid to rest in Chattogram's Halishahar area after his Namaj-e-Janaza after yesterday's Juma prayers.
SALAUDDIN MITHU, 25

Salauddin Mithu worked as an accountant at AI Freight Services Ltd. He used to live in the capital's Modhubagh area with his family.
SHEIKH ZAREEN TASNIM BRISHTY, 25

Sheikh Zareen Tasnim Brishty, daughter of Sheikh Mozahidul Islam, of Bejpara area in Jashore's Sadar upazila, finished her SSC and HSC from BAF Shaheen College, Jessore.

She was a Human Resources Management graduate from United International University. Later she joined EUR Service (BD) Ltd as a human resources officer.

She was married with the same district's Kazi Saad Nur.
SYEDA AMINA YASMIN RATUL, 48

Syeda Amina Yasmin Ratul used to work as an administrative officer at a Sri Lankan company on the 11th floor of the high-rise. Amina was the youngest daughter of retired captain Syed Mahiuddin Ahmed.

Amina completed her graduation from Dhaka University. She was not married. She used to live with her parents in the capital's Kafrul area.
TANJELA MOULE MITHI, 25

Hailing from Bogura's Santahar, Tanjela Moule Mithi got married only eight months ago with Rayhanul Islam, an employee at the US-Bangla Airlines.

The couple had been living Dhaka's Mirpur area since their marriage. Tanjela was a BBA student at Asian University. She used to work as a part-time employee at Heritage Air Express besides her studies.
Our Benapole, Bogura, Chandpur, Dinajpur, Kushtia, Moulvibazar, Narayanganj, Pabna and Tangail correspondents contributed to this report.