Manna blasts govt over price hike of essential commodities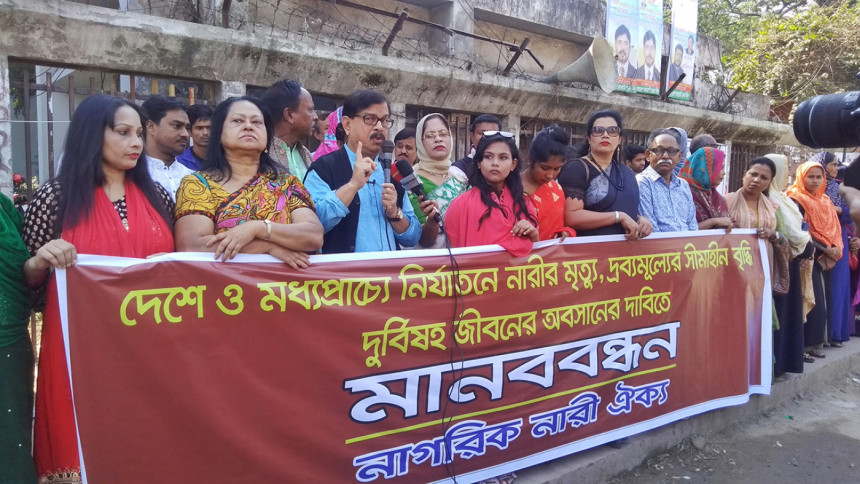 Nagarik Oikya Convener Mahmudur Rahman Manna today criticised the government over the recent price hike of essential commodities.
The way the prices soared in the recent time is higher than other countries in the world, he claimed while he was speaking at a human chain programme in front of Jatiya Press Club in Dhaka.
The human chain was formed protesting the recent price hike of essential commodities and torture on Bangladeshi female migrant workers in the middle east.
"If the prices of essential cooking ingredients continue increasing, how can general people sustain their lives as their income is not increased?" he questioned.
Criticising the government's initiative to pull reins of the onion price, Manna said the government failed to reduce the onion price although it imported the daily ingredient from abroad.
"Where is the onion which has been imported from abroad using plane and ship? Why could not the government control the price of onion?" he asked.  
Noting that the government is attempting to increase the price of electricity, Manna said no one can show any logic in the favour of the price hike.
People will not accept it if the government increases the price of electricity, he added.
The Nagarik Oikya convener urged the government to reduce price of all daily essential commodities including onion and vegetables.
Nagarik Nari Oikya, a pro-Nagorik Oikya women platform, arranged the protest programme where people from different professions attended.