Even 'Fokinni Bazar' not spared from price hike
At market for 'discarded' produce, customers, vendors distraught as budget gets strained, profit declines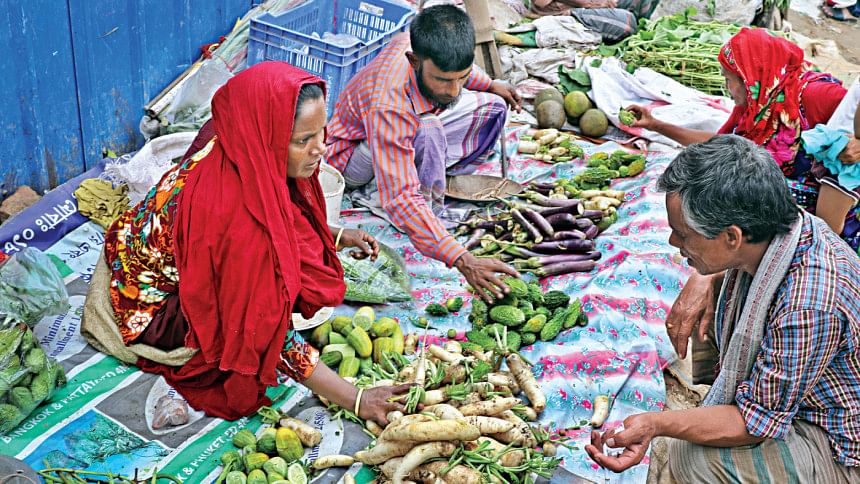 It had nearly been an hour, but Khadiza Khatun was still moving from vendor to vendor with her empty bazaar bag in Tejgaon kitchen market.
With the bag folded in her hand, Khadiza was looking for some vegetables within her tight budget. But wherever she went, she found the prices beyond her reach. Eventually, she decided to go to another bazaar for low-income people, popularly known as "Fokinni Bazar", under Bijoy Sarani-Tejgaon Flyover, along the rail tracks.
When Khadiza went to buy a kg of brinjal there, to her utter surprise, she found that the price is also catching up with the mainstream market.
"One kg of brinjal is Tk 70 in normal markets, and here it's Tk 50 now. But a few months back, I would buy them for Tk 30," she said.
"Due to the pandemic, my husband couldn't find a regular job. Now, because of such high prices, we can't manage three meals a day, especially for my children," lamented Khadiza, who has bene living with her two school-going children and day labourer husband at Purbo Nakhalpara for the last 10 years.
This is the current picture of Fokinni Bazar, which has been a godsend for the poor. But now, it too is a victim of price hike like regular markets.
The transient bazaar is set up on both sides of the rail tracks, where people living in shanties nearby sell daily goods. The sold produce is not particularly in good condition, as most are on the verge of rotting.
Vegetables -- such as, potato, brinjal and gourd -- have deep marks or bruises, because they fell off trucks. Therefore, prices are usually one-third of that of the actual market. According to locals, the bazaar was set up in the early 80s by slum people, who would collect rotten vegetables and sell them at a minimal price.
Afsa Begum, a resident of Poschim Nakhalpara for 12 years, has been going to the bazaar to buy essentials for a long time, while her husband goes out for his carpentry job.
 "There was a time when my bag would be full with veggies after spending Tk 100 here. Now, it barely fills half the bag. Half rotten vegetables are getting pricier too," Afsa said.
While low-income customers are struggling to make ends meet due to high prices, vendors are also seeing decreasing sales. As a result, their long-running business is facing uncertainty.
Vendor Md Sohel has been in the business for about five years. He must spend Tk 300 daily to maintain his makeshift stall, and Tk 3,000 per month for house rent. Now, it is getting difficult for him to manage both.
"I used to sell goods worth Tk 6,000-7,000 every day six months back, but now, it has come down to Tk 3,000- 4,000. I barely make any profit, so it's getting tough to take care of my family in Dhaka," he grieved.
While talking about the reason for hiked prices, he said, "We would get half-rotten or non-fresh vegetables at minimal prices from retailers, but now we don't. We need to spend a good amount of money to buy them, and the process also involves transportation costs."
Nurjahan Begum is another vendor who is selling vegetables for 20 years. She also echoed Sohel while explaining the price hike.
"We would sell non-fresh potatoes for Tk 15 per kg, but now we've to do so for Tk 30, while in regular markets they go for Tk 40. The retailers from the main market are now selling half-rotten potatoes at higher prices to us," she argued.
"Due to this, customers are haggling more than before and buying fewer goods from us. I could profit Tk 25-30 per Tk 100 sale, but now the profit came down to Tk 10-15. Not only customers, we are victims of the price hike as well," Nurjahan said.