Efforts on to speed up metro rail work
120 Thai, 240 Indian engineers and consultants to be brought back this month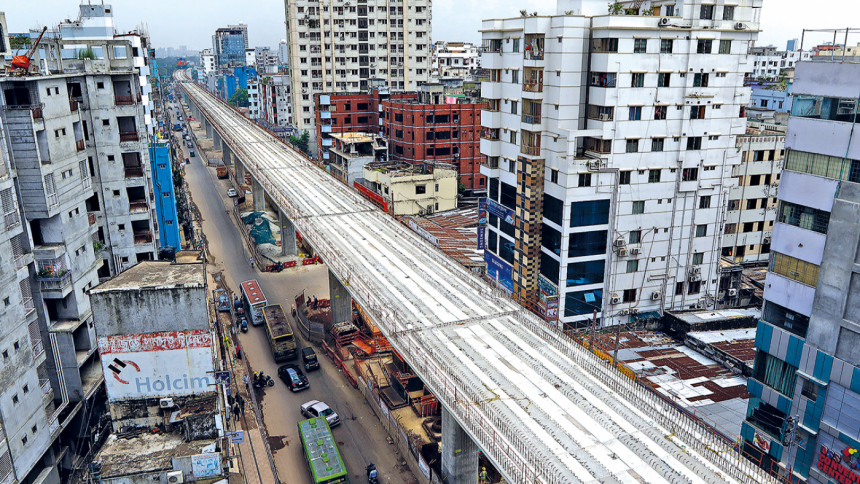 The metro rail authorities have taken initiatives to bring back more foreign engineers and consultants to accelerate the construction work of country's first metro rail project.
Twenty-four Thai engineers have already been brought back in charter flights last month, as regular flights between Bangladesh and Thailand has remained suspended.
Now, Dhaka Mass Transit Company Ltd (DMTCL), which is implementing the project, has taken steps to bring back 120 more Thai and 240 Indian engineers and consultants within this month, officials said.
However, the authorities continued to face problems in bringing back Japanese nationals involved in the project as the Japan government has not lifted an embargo it imposed on its citizens to come from Japan.
Most project contractors and consultants are from Japan and regular flights to and from Japan have been suspended since mid-March, they said.
The development came as the authorities are trying to accelerate the construction work, which remained halted for more than two months after the government declared a national holiday in late March to contain spread of Covid-19.
The project -- formally known as Mass Rapid Transit-6 or MRT Line-6 -- is being implemented to build an elevated rail line from capital's Uttara Third Phase to Motijheel at the cost of Tk 20,000 crore. But the fast-track project witnessed only 5.03 percent progress in the last five months.
Overall, it witnessed 49.15 percent progress till August, according to project documents. The first phase of the project -- from Uttara to Agargaon -- saw 75 percent progress while the second phase -- from Agargaon to Motijheel -- saw 42.50 percent progress till last month.
DMTCL earlier set December 2021 for starting operation of the metro rail, but the Covid-19 pandemic has slowed down the works, casting doubt whether the authorities would be able to meet the deadline.
Once completed, metro rail would carry 60,000 passengers per hour.
At the latest meeting of Fast Track Project Monitoring Taskforce in June, the prime minister's principal secretary Ahmad Kaikaus, also the head of the taskforce, asked metro rail authorities to take initiatives to bring back foreign engineers and consultants to expedite project work.
"We have taken multiple steps to bring back foreign engineers and consultants to speed up our works," MAN Siddique, managing director of DMTCL, told The Daily Star recently. He said 120 Thai nationals will be brought by air charter of a contractor firm -- Italian-Thailand Development Public Company Ltd -- within next week.
They have already received approval from the authorities concerned for this special arrangement, he said.
He said some 240 Indian nationals involved with the project will reach Bangladesh within this month. They were asked to reach Kolkata first and then would be brought back through Benapole border, he said.
In July, DMTCL wrote to the foreign ministry to give special waiver for Japanese nationals involved in metro project so that they can return to Bangladesh.
Asked about development of this initiative, MAN Siddique said they are hopeful that relatively younger Japanese nationals will return to Bangladesh soon, as the older ones may not be allowed to come back.