Buet students to continue protest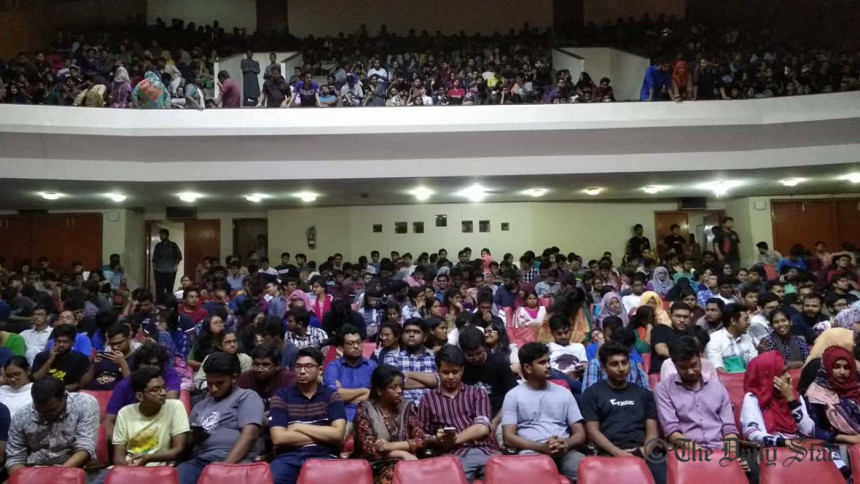 The agitated Buet students today announced to continue their protest programme until the internal safety and security is ensured on the university campus.
The student representative told the university authority that they would continue their protest programme until the congenial atmosphere for taking admission test and term final examinations in a secured manner is prevailed upon the university.   
Admission test and term final examinations of all departments will remain close during the movement, the agitated students' representatives told reporters after ending a meeting with Buet Vice Chancellor Prof Saiful Islam.
Citing their 10-point demand, the student representatives told the meeting that the demands will have to be met otherwise the protest will be continued.
During the meeting, Prof Pran Kanai Shaha, chairman of Buet examination committee, said they have moral support to the student protest and asked them to lift the agitation for the sake of admission test and term final examinations.
However, the agitating students rejected the call during the meeting.
Deans of different faculties of Bangladesh University of Engineering and Technology (Buet), its Director of Student Welfare Mizanur Rahman were present at the meeting that began around 5:30pm and ended around 8;00pm.
WHAT ARE THE DEMANDS?
Agitating students placed a fresh 10-point demand on Wednesday, which included capital punishment to the killers, expulsion of all the accused from the university, put an end to all sorts of ragging in the residential halls.
They demanded installation of CCTV cameras on both sides of every wing of the residential halls.
The other demands are withdrawal of Sher-e-Bangla Hall Provost Muhammad Zafar Iqbal Khan by 5:00pm of October 11 for his failure to protect students, compensation to Abrar's family and bearing their expenses for running legal battle in the murder case.
However, the hall provost resigned yesterday amid the student protest.