Metro Rail: Construction materials of nearly 12 local firms used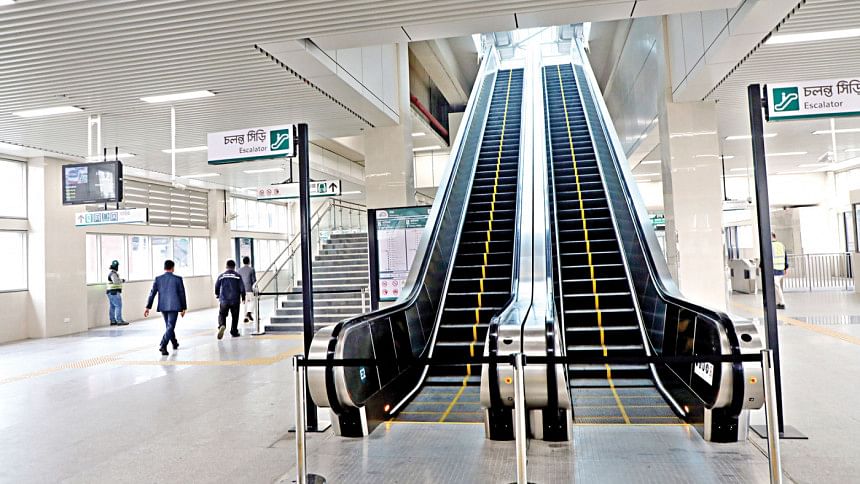 Around a dozen local companies supplied materials such as rods, steel products and cement for the construction of the country's first metro rail, signifying that products made in the country are achieving international standards.  
While a large portion of the Tk 33,500 crore project comprise imported materials, locally made rod, steel products and cement have been used by the foreign construction firms.
The local products were recommended by consultants satisfied of their top grade, said MAN Siddique, managing director of Dhaka Mass Transit Company, the implementing and operating agency, earlier.
Using those gave confidence to the local manufacturers and was a matter of pride for the country, he added.
According to an official of Dhaka Mass Transit Company, 111,840 tonnes of mild steel (MS) rods have been used till date for the partially completed project.
Around 72,000 tonnes of MS rods were provided by Bangladesh Steel Re-Rolling Mills (BSRM), one of the country's leading steel manufacturers.
Tapan Sengupta, deputy managing director of the BSRM, said up until now they have provided the lion's share of the MS rods used, which means their product quality was of an international standard.
He said Japanese experts frequently conducted tests and supervised the manufacturing process before placing orders.
Abul Khair Steel (AKS) has provided 20,884 tonnes of rod to the metro rail project's MRT line-6, said Md Rasheduzzaman, head of sales, business to business at the AKS, one of the leading steel makers of Bangladesh.
He said AKS, a leader in making steel using electric arc furnace, has supplied 100 per cent refined MS rod to the metro rail project.
GPH Ispat said to have provided some 8,000 tonnes of "high quality" steel.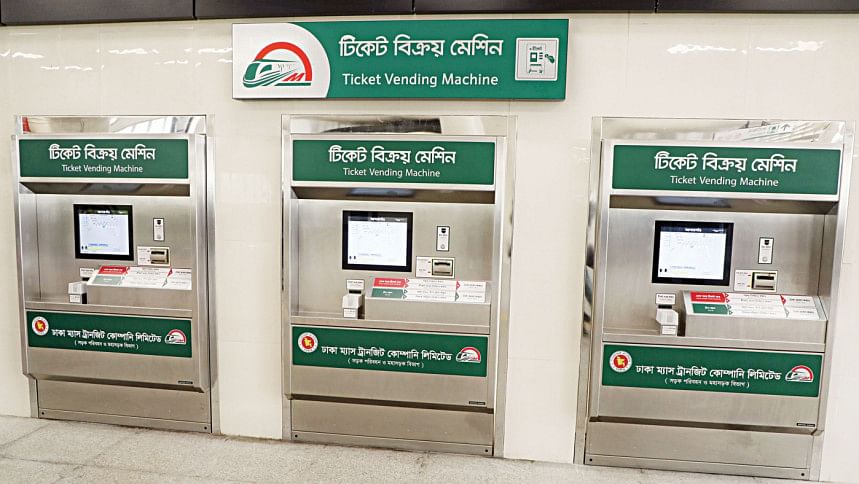 McDonald Steel Building Products provided 14,000 tonnes of steel products for installation at the metro rail's 16 stations.
"It is an example that local manufacturers are capable of producing world-class products," said the company's managing director, Md Sarwar Kamal.
The company set up a dedicated production line to make the products, including roof trusses, which are prefabricated structures designed to support the roofs.
According to Kamal, Japanese experts supervised the manufacturing process while random samples were tested at a laboratory of the Bangladesh University of Engineering Technology prior to installation.
Premier Cement Mills provided an uninterrupted supply of "hundreds of thousands of tonnes" of cement, said its managing director, Mohammed Amirul Haque.
He claimed that Bangladeshi cement had attained international standards for which international construction firms were using it.
Bashundhara Cement has so far supplied more than 3,50,000 tonnes of cement, said Khandaker Kingshuk Hossain, the company's chief marketing officer.
Berger Paints Bangladesh said to have supplied "premium" industrial and decorative paints.
It provided all paint-related materials to the Uttara depot and supplied paint and helped in its application in all stations from Uttara to Motijheel.
The company got the work order directly from the contractor, said Managing Director Rupali Haque Chowdhury.
"Kansai Nerolac Paints of Japan that started their operation in Bangladesh in 2018 are the main supplier of paints in this Dhaka metro rail project," said Vishal Mothreja, CEO of Kansai Nerolac Paints Bangladesh Ltd.
"The steel structure used in the all the stations have been painted by Kansai Nerolac Paints. We have also supplied decorative coatings to many stations."
All kinds of internal cables, except the main electricity line, were provided by BRB Cable Industries.
No foreign cable has been used, said Rafiqul Islam Rony, director for marketing and sales.