First operation on Muktamoni 'successful'
Doctor says after surgery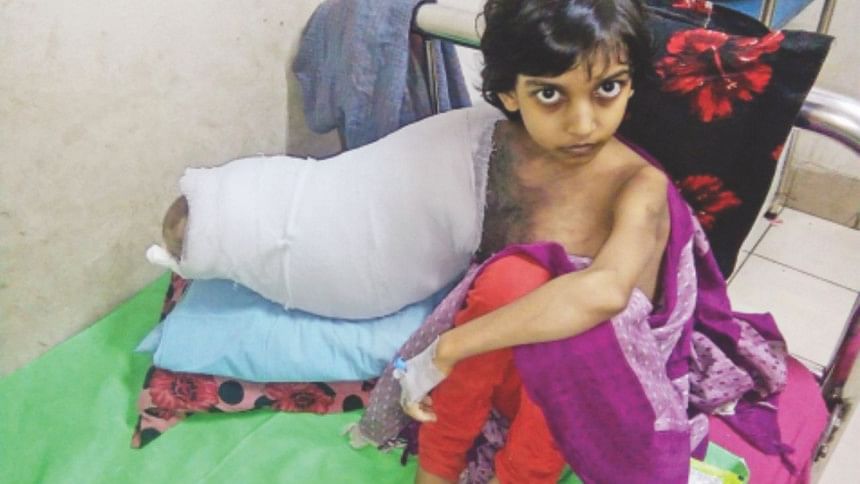 A week after doctors found the existence of a tumour in an artery of her arm, Muktamoni today underwent a "successful" operation at Dhaka Medical College and Hospital (DMCH).
Nearly three kilogrammes of tumour were removed from her right hand, Dr Samanta Lal Sen, coordinator of DMCH's Burn and Plastic Surgery Unit, said at a press briefing after the operation.
Read More:Moni waits for miracle
Two doctors from National Institute of Cardiovascular Diseases joined the 19-member team of DMCH during the two-hour-long operation that started at 8:45am, he said.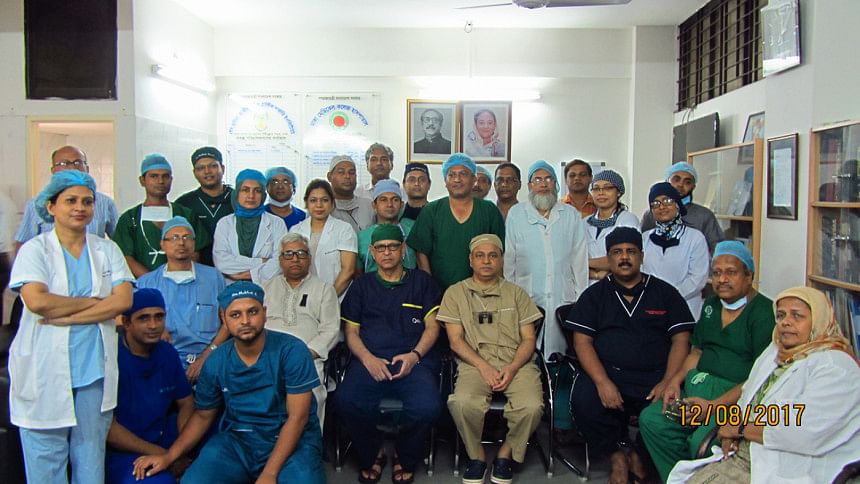 Thirty minutes after the surgery, Muktamoni told Samanta Lal that she was doing well, the doctor told The Daily Star.
On completion of the surgery, the 12-year-old girl was taken to the Intensive Care Unit (ICU) of Burn and Plastic Surgery in Dhaka Medical College Hospital (DMCH), he said.
But it cannot be said whether Muktamoni is out of danger now, he said.
Amputation on her hand was not required today but Muktamoni may face 5-6 more surgeries, the doctor said.
Doctors started the operation on Muktamoni in the morning after doctors found the existence of the tumour in her artery following a biopsy, Partha Shankar Pal, a resident surgeon of the burn unit, told The Daily Star today.   
A 13-member medical board at a meeting on August 8 decided to operate on 12-year-old Muktamoni as a biopsy result showed the existence of the tumour.
On August 5, DMCH doctors conducted the biopsy on Muktamoni, who has been afflicted by the disease mainly in her right arm, the condition leading to her arm swelling up like a bee hive.
When Muktamoni was three years old, her parents observed a small swelling in her chest. After a few days, the marble-like protrusions appeared underneath her left armpit. Thus began a round of treatment that has continued till this very day.