'Convey my thanks to PM'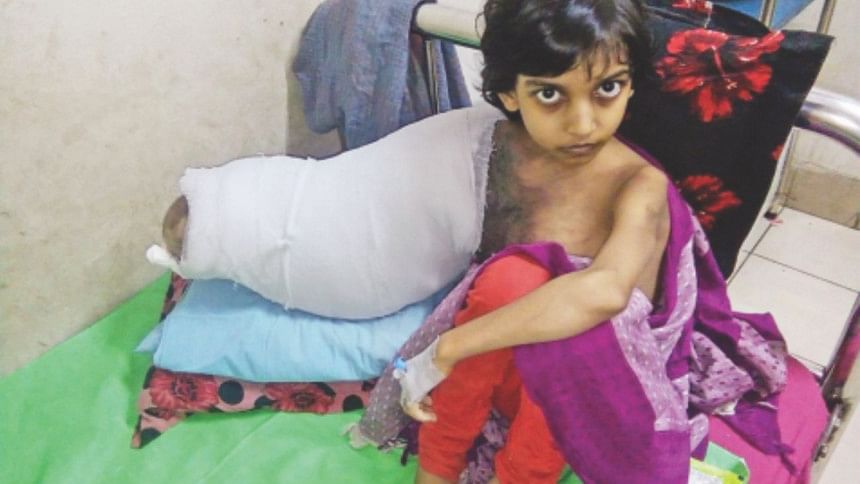 Muktamoni, who is now undergoing treatment at Dhaka Medical College and Hospital with an unknown disease, today thanked Prime Minister Sheikh Hasina for bearing expenses of her treatment.
The 12-year-old Satkhira girl expressed her gratitude to the premier when Director of Prime Minister's Office Dr Zulfiqar Lenin paid a visit to her and reiterated that PM would bear all the expenses of her treatment, said Muktamoni's uncle Ahsan Habib.
During a brief conversation with Muktamoni, Lenin asked Muktamoni about the name of Bangladesh's prime minister. She replied, "Sheikh Hasina."
When Lanin told her that the prime minister has sent him to visit her, Muktamoni, expressed gratitude and requested him to convey her thanks to the premier.
Read More: PM takes responsibility of Muktamoni's treatment
Meanwhile, Health Minister Mohammad Nasim also visited Muktamoni at DMCH.
He also gave financial aid to Muktamoni's family, Dr Samanta Lal Sen, national coordinator at National Institute of Burn and Plastic Surgery, told The Daily Star.
Dr Sen said they may need to conduct four to five surgeries on her within five to six months.
Muktamoni, hailing from Satkhira, has been afflicted by the disease mainly in her right hand, the condition leading to her hand swelling up like a bee hive.
Doctors suspect she has been suffering from blood deficiency and poor nutrition.