Surgery on Muktamoni 'successful'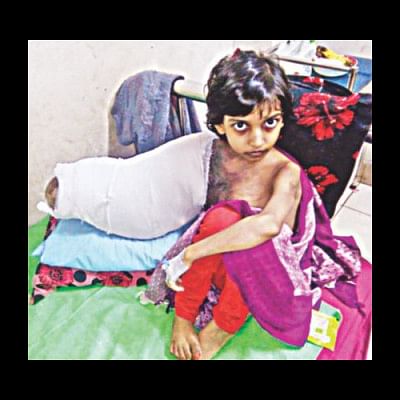 A week after doctors found a tumour in an artery of her arm, Muktamoni yesterday underwent a successful surgery at Dhaka Medical College and Hospital (DMCH).
Nearly three kilogrammes of tumour was removed from her right hand, Samanta Lal Sen, coordinator of DMCH's Burn and Plastic Surgery Unit, told to The Daily Star.
After the two-hour-long surgery around 8:45pm, the 12-year-old girl was moved to the Intensive Care Unit (ICU) of the unit, he said.
When she regained consciousness, Muktamoni told doctors that she was feeling well, Sen said. He said it was too early to say if she was out of danger.
Ahsan Habib, Muktamoni's paternal uncle, said, "We spoke to Muktamoni in the ICU an hour after the surgery."
Meanwhile, Muktamoni's family members expressed their gratitude to Prime Minister Sheikh Hasina for her support for Muktamoni's treatment.
Sen said the prime minister had thanked the doctors for their work.
It is expected that Muktamoni would have to stay in DMCH six more months for further surgery. She was admitted to the hospital on July 11.
A 13-member medical board was formed to look into the girl's case and on August 8 they decided to operate after a biopsy showed a tumour in the artery of her hand.
Muktamoni, afflicted by the problem mainly in her right arm, was struggling as her arm was swelling like a beehive. Her parents first noticed the problem when she was only three.
It began with a small swelling on her chest. Days later, marble-sized protrusions appeared under her left armpit.