Brutality at Sonagazi: Her fight continues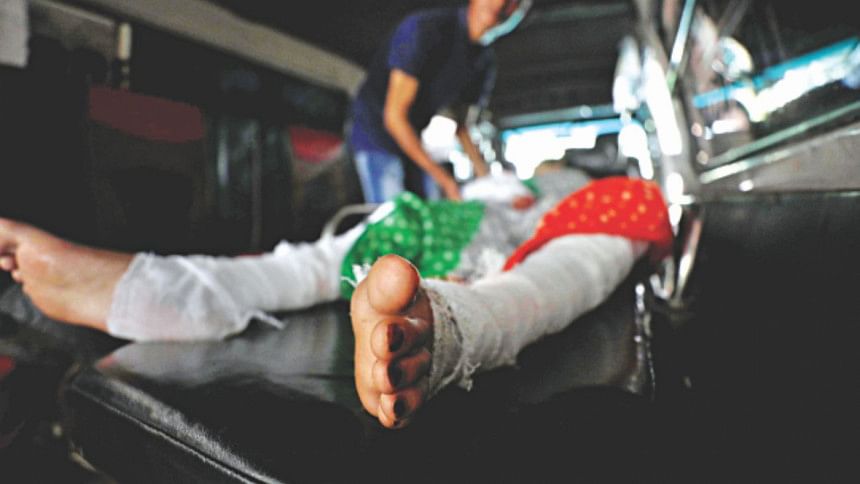 The Feni madrasa student who was set afire on Saturday morning apparently lost the ability to speak while battling for life at the burn unit of Dhaka Medical College Hospital yesterday.
"She has stopped talking since 10:00am [yesterday]. Earlier she could speak to us but her condition now seems to be really bad. Her whole face was swollen," her elder brother told The Daily Star at 9:15pm. 
The DMCH authorities formed a nine-member medical board for treatment of the 18-year-old, now at the intensive care unit with 75 percent burns.
Doctors will go for a surgery if her condition improves, Dr Samanta Lal Sen, co-ordinator of the burn unit, told this newspaper yesterday evening.
Education Minister Dipu Moni visited her at night. After talking to doctors, she told journalists that her condition was very critical, and assured her family members of justice. 
The student came under attack allegedly for refusing to withdraw a case filed against madrasa principal Maulana Siraj Ud Doula for sexually harassing her late last month.
Some four unidentified people allegedly took her to the roof of the three-storey administrative building of Sonagazi Islamia Senior Fazil Madrasa Saturday morning, saying a friend of hers was being assaulted there.
The girl was an Alim (equivalent to HSC) examinee and a few minutes were left before the start of Arabic first paper test at 10:00am.
"They asked her to withdraw the case against principal Maulana Siraj Ud Doula. As she would not budge, one of them poured kerosene on her from a glass and set her ablaze," the victim's brother told The Daily Star, quoting her.
The madrasa's governing body yesterday suspended Siraj over the alleged sexual assault on the student on March 27. He is now behind bars.
Its other decisions include paying Tk 2 lakh for the treatment of the victim, installing CCTV cameras on the madrasa premises and strengthening its security system.
Abul Foyez, additional DIG of Chattogram range, visited the spot and promised proper investigation into the incident.
People from all walks of life, including former woman lawmaker from reserved seat Jahan Ara Begum, demanded punishment of the culprits.