Four set fire to Feni madrasa student
Says the victim now on life support; PM asks authorities to send her to S'pore; 7 held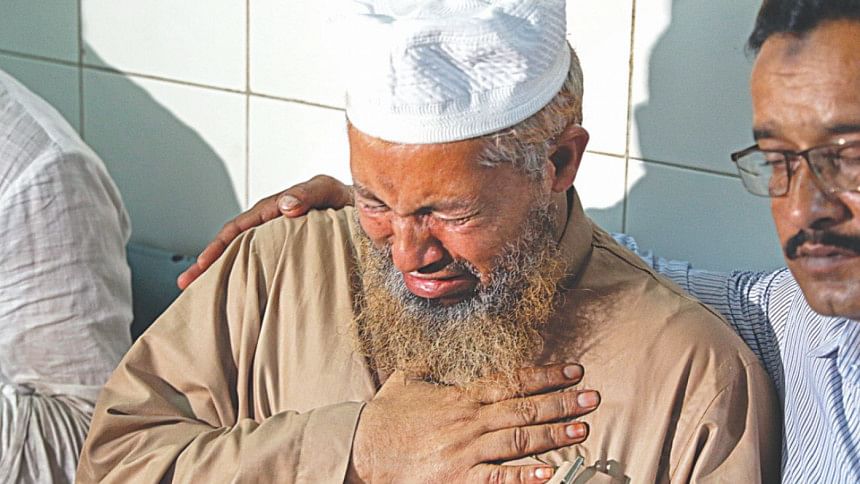 The Feni madrasa girl, who was set on fire three days ago over her alleged sexual harassment by a madrasa principal, told physicians that four people were involved in setting fire to her at Sonagazi Islamia Senior Fazil Madrasa on Saturday.
The 18-year-old student went to the madrasa to take an Alim examination, doctors at the burn unit of Dhaka Medical College Hospital (DMCH) told The Daily Star yesterday, quoting the victim.
At one stage, she was taken to the roof of the madrasa's three-storey administrative building. She saw four people wearing veils, burqa and hand gloves there.
Talking to doctors on Sunday, she said they had asked her to withdraw the case, filed against madrasa Principal Maulana Siraj Ud Doula, over sexually harassing her late last month. They also pressed her to give a statement saying that the allegation was false.
As she refused to comply, they tied her hands with a scarf, poured something on her body and asked her to run. She ran away, with her body on fire, according to her statement.
Meanwhile, the victim, who suffered 75 percent burns to her body, was put on life support at the burn unit of the DMCH around noon yesterday as her condition deteriorated.
Dr Samanta Lal Sen, national coordinator of the burn unit, said Prime Minister Sheikh Hasina called him around 5:00pm yesterday and inquired about the madrasa girl's condition. She asked him to send the patient to Singapore at the earliest if her medical condition permitted.
The DMCH has formed a nine-member medical board for the victim's treatment.
CASE FILED IN FENI
A case was filed with Sonagazi Police Station by the victim's brother yesterday, accusing four unidentified female madrasa students and their associates, reports a correspondent from Feni.
Police have already arrested two people and detained five others in connection with the incident.
The arrestees are Afsar Uddin, 33, a lecturer of English, and Ariful Islam, 22, an Alim examinee of the madrasa.
A local court yesterday sent the two to jail after they were produced before it.
The five detainees are madrasa night guard Md Mostofa, 38, and office staffers Amin, 50, Alauddin, 25, Saidul Islam, 21, and Jashim Uddin, 30.
Earlier on March 27, the victim's mother filed a case with Sonagazi Police Station, accusing the madrasa principal of sexually harassing her daughter. The principal is now behind bars in the case.
Visiting the DMCH burn unit yesterday, PM's Special Assistant Biplab Barua told newsmen that the premier directed him to inquire about the madrasa girl's treatment.
He said the government would bear the costs of her treatment.
Meanwhile, Naripakkha, a women's activist organisation, in a statement yesterday condemned the heinous attack on the madrasa girl and demanded exemplary punishment for the culprits.