No headway in probe into attack on Feni girl
Victim can't be sent to S'pore now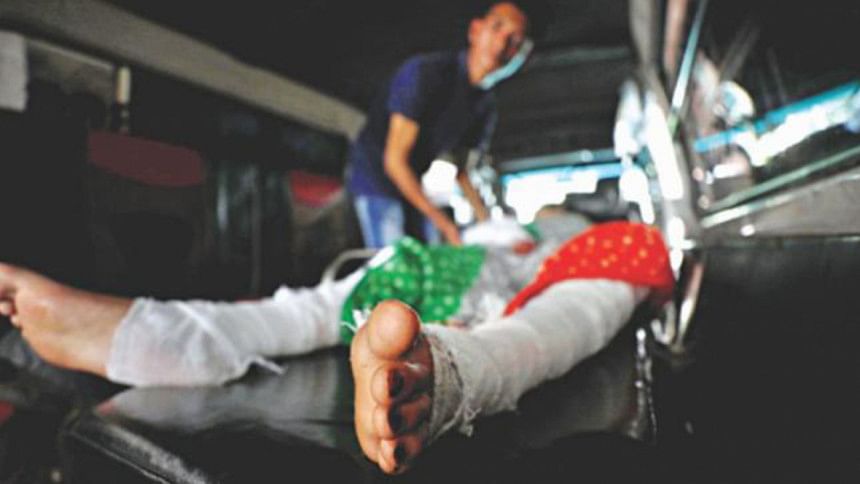 Police are yet to make any breakthrough in the investigation into the heinous attack on the Feni madrasa girl on April 6.
Moreover, police yesterday arrested one "Shampa", who was allegedly involved in setting fire to the girl, reports Prothom Alo.
The Bangla daily had earlier reported that the victim disclosed the name to her doctors.
Deputy Inspector General of Chattogram Range Police Khondokar Golam Faruk, in response to a journalist's question, confirmed Umme Sultana alias Poppy was arrested yesterday. He added Shampa and Poppy is the same person, reported Prothom Alo.
She was picked up from Lokkhipur in Sonagazi's Mangalkaneli union.
The madrasa student was set on fire allegedly for her refusal to withdraw a case filed on charges of sexual harassment against Siraj Ud Doula, principal of Sonagazi Islamia Senior Fazil Madrasa.
Sonagazi Police picked up Siraj on the same day as the case was filed, March 27.
VICTIM UNDERGOES MINOR SURGERY
A minor operation had been conducted on the victim yesterday and dressing had been changed on her burns, said Dr Samanta Lal Sen, chief coordinator of National Institute of Burn and Plastic Surgery of the Dhaka Medical College Hospital (DMCH).
The brutal assault left her with 75 percent of her body burnt and she is currently on life support at the burn unit.
She also cannot be taken to Singapore as the five-hour long plane journey might be too much for her.
Singapore General Hospital doctors informed the matter to the burn unit doctors during a video conference at 9:00am yesterday, Sen told this newspaper yesterday.
The doctors in Singapore also suggested treatment methods for the 18-year old victim and the DMCH burn unit is already implementing those.
He also said a five-member team of doctors from Singapore were scheduled to visit Bangladesh on April 17, and would examine the girl.
During the video conference, Director of Sheikh Hasina National Burn and Plastic Surgery Institute Professor Dr Mohammad Abul Kalam said the teenager's condition had slightly improved but was still critical.
'POWERFUL' PRINCIPAL SHOWN ARRESTED
Meanwhile, Siraj Ud Doula, principal of Sonagazi Islamia Senior Fazil Madrasa, was shown arrested yesterday in an attempt-to-murder case filed by the victim's brother on Monday.
Four unidentified female madrasa students and their associates were also named in the case.
Police had detained eight people in connection with the case and sent four of them to court, which granted five day remand for each.
The seven, excluding Siraj, are Afsar Uddin, 33, an English lecturer; Ariful Islam, 22, an Alim examinee of the madrasa; madrasa night guard Md Mostofa, 38, and office staffers Amin, 50, Alauddin, 25, Saidul Islam, 21, and Jashim Uddin, 30.
Madrasa peon Nurul Amin, who was taken into police custody, told police that teachers and employees of the madrasa were held "hostage" by Siraj.
He said Siraj was a very powerful man and used to form madrasa management committees with people loyal to him.
He also had students who were loyal to him, Nurul said.
The principal was a Rokon -- an important field-level position in the Bangladesh Jamaat-e-Islami -- but he was expelled from the party in 2016. Afterwards, some influential Awami League leaders gave him shelter, according to some locals.
Locals also said Siraj was accused in three cases filed with Feni Sadar and Sonagazi police stations on charges of subversive activities and attacks on police.
He had been arrested earlier but was released on bail.