A madrasa student made to 'pay' for protesting abuse
Punish the attackers and instigators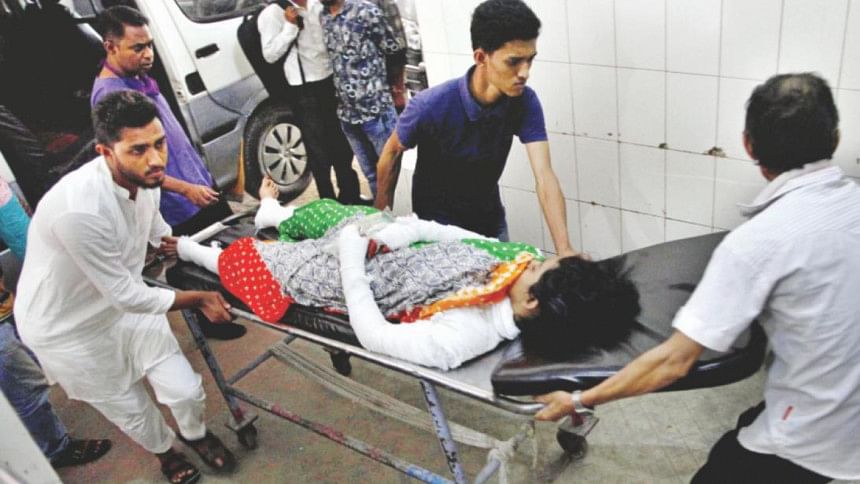 We are speechless with shock at the brutality inflicted on a female madrasa student in Feni, for refusing to withdraw a case she filed against the madrasa's principal who had sexually harassed her. The antecedents of this heinous crime make it clear that this young girl was the victim of a diabolic conspiracy. The fact that possibly her fellow female students were the ones to lure her to the terrace and then douse her with kerosene and set her on fire makes this crime all the more horrific. This young girl who was about to take her Alim (equivalent to HSC) exams had to be taken to hospital with 75 percent burns on her body. How can fellow students be so barbaric? Who instigated them to carry out this abhorrent act?
According to a news report in this paper on March 27, the victim was called to the principal's room by a peon of the school. When she went there the principal started sexually harassing her. She later told her family who lodged a protest at the madrasa. As suggested by teachers and the management committee, her family lodged a case against the principal and he was arrested. But a section of the madrasa has been demanding his release. It was because the victim refused to withdraw the case that she was subjected to such ghoulish violence.
The incident points out to the vulnerability of young students in these institutions who become victims of sexual or other kinds of abuse at the hands of those who hold high positions. It is commendable that in this instance, teachers and the management committee supported the student and advised her to file a case. Unfortunately, this was not enough to protect her. If the madrasa had been united in condemning the initial crime, this innocent student would not have been targeted and assaulted later.
We demand that the perpetrators and the masterminds of this horrible crime be identified and given exemplary punishment. The government must also set up a monitoring system of all these institutions to make sure other female or male students are not subject to such abuse and in the unfortunate event that they are, they will not face such devastating consequences when they lodge official complaints or cases.