'I want my father back, safe and unhurt'
Missing journalist Kajol's son says at human chain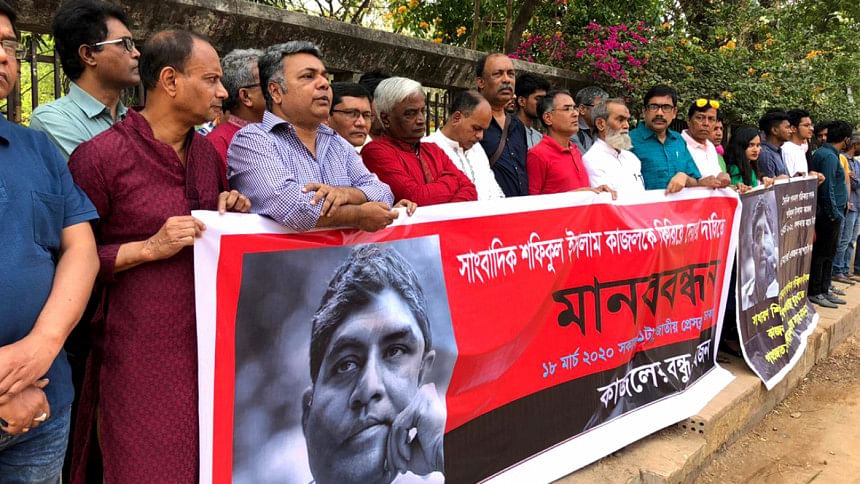 Family members, friends and colleagues of the missing journalist Shafiqul Islam Kajol today formed two separate human chains demanding that the authorities find him immediately.
The events were held in front of Jatiya Press Club and National Museum in the capital.
Speaking at one of the events, Monorom Polok, Kajol's son, said finding a person in this day and age is not difficult for the government.
"All I want is to have my father back, safe and unhurt," he said.
"Baba, we want you back soon. I, ma and my little sister are waiting for you," Polok added.
A friend of Kajol alleged that the journalist was "forcibly disappeared". "If Kajol committed any offence, legal actions could be taken against him instead of taking him away," he said.
Sajjad Alam Khan Topu, general secretary of a faction of Dhaka Union of Journalists (DUJ), said Kajol always protested irregularities and corruption since student life. He valued freedom of press more than his life.
"But suddenly he has gone missing in an independent country. We have talked to the authority in this regard, and they assured us. We want to believe that Kajol will be back among us very soon," said Topu.
Kajol, editor of the daily Pokkhokal, went missing on March 10. He left home and went to his office in Hatirpool.
He was last seen leaving his office on his motorbike, which falls under New Market Police Station, around 7:00pm, police said.
Kajol's disappearance came a day after Saifuzzaman Shikhor -- a ruling party lawmaker from Magura-1 -- filed a case against him, Editor-in-chief of daily Manabzamin Matiur Rahman Chowdhury, and 30 others on charge of publishing a report with "false information" and circulating it on social media.
Kajol's family suspects that he was abducted, and has been repeatedly urging authorities to help ensure his safe return.
On March 11, the family filed a missing general diary with Chawkbazar Police Station in this connection. However, they are yet to file any case in this regard.