Love for work brings honour for Dinajpur artisan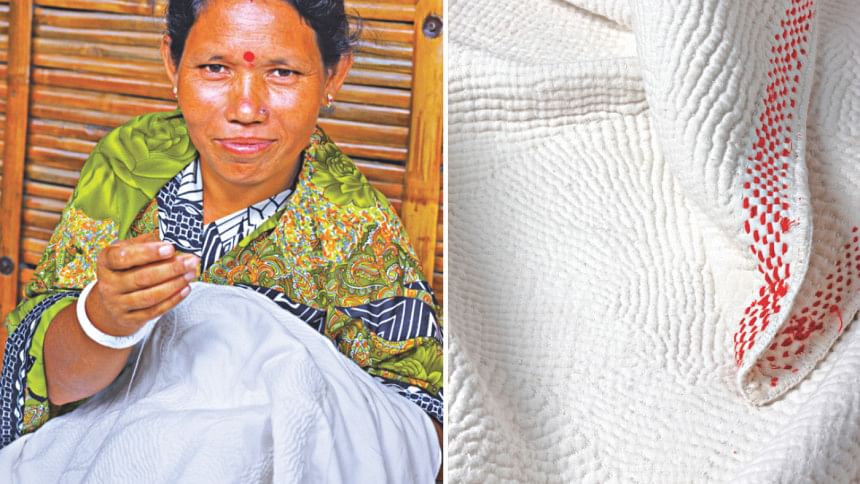 For most, a quilt is a symbol of tradition, passed down from generation to generation marking important life events, while many use it as bedding or decoration.
But, for Sona Rani Roy a quilt was always more than that.
She fell in love with the fabric at an early age as the patterns, colours, textures and techniques of quilt making never ceased to inspire her.
Sona's passion for making quilts never diminished. The Dinajpur woman was short -listed as a finalist for the Loewe Craft Prize 2017, for her work, "White on White-Moyur" quilt on Wednesday.
Her large quilt features patterns of a bird spreading its wings. "It took me three months to make the quilt," informed Sona of West Saitara village in Chirirbandar upazila.
"I do my work with utmost sincerity. It means a lot to me if someone likes my work, and being a finalist for this award is indeed a huge recognition for me."
According to its website, the Loewe Craft Prize is an "... annual international prize recognising an outstanding work of craftsmanship that pairs an original artistic concept with a modern application of traditional methods."
Sona has been selected as one of the 26 finalists from 3,951 craft submissions from around the world. The award is given out by the Spain-based Loewe Foundation. Loewe is owned by Louis Vuitton - LVMH.  
Living Blue, a textile label of CARE Enterprises Inc, had promoted Sona for the competition. Living Blue is an initiative of CARE Bangladesh and Nijera Cottage & Village Industries (a community of dyers, quilters and farmers of northern Bangladesh).
"We work towards empowering artisans and retaining, improving and upholding Bangladeshi craftsmanship," said Mishael Aziz Ahmad of Living Blue.
"Sona's achievement in Loewe Craft Prize is a milestone for us. She has made Bangladesh proud".
This is not the first time she is representing the country on an international platform. She also took part in the Santa Fe International Folk Art Market in the US in July 2014.
The winner of the Loewe Craft Prize 2017 will be announced on April 10 in Madrid.