JU philosophy dept students protest attacks on quota reformists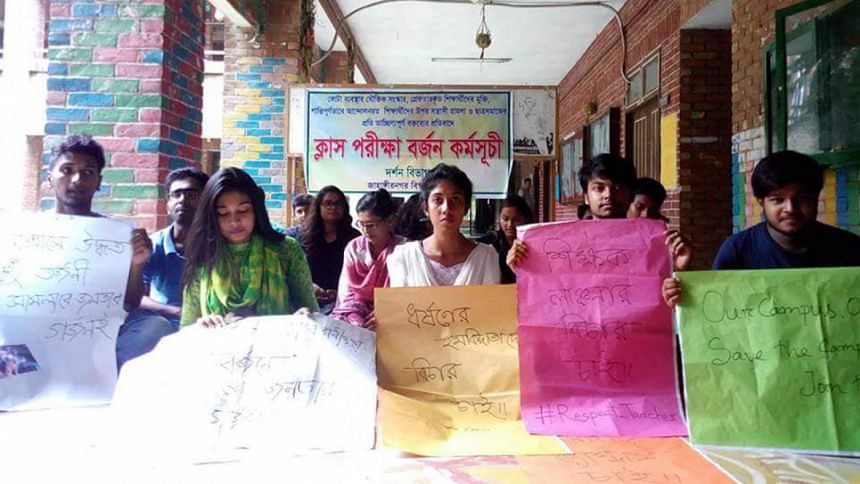 A section of students of Jahangirnagar University's Philosophy department today protested the recent spate of attacks on some teachers and students demanding reformation in the existing quota system in civil service.
The students boycotted their regular classes and staged a sit-in programme at their department around 9:30am to press home their demand, our JU correspondent reports.
They also demanded immediate publication of the gazette notification bringing reformation in the quota system. Most of the attacks on quota reformists countrywide have been inflicted by Bangladesh Chhatra League (BCL), the student front of ruling party Awami League, they said.
Meanwhile, students of government and politics department of the university formed a human chain on the campus this noon protesting the "threat" of sexual harassment (rape) allegedly issued by some BCL men to one of their fellow female students.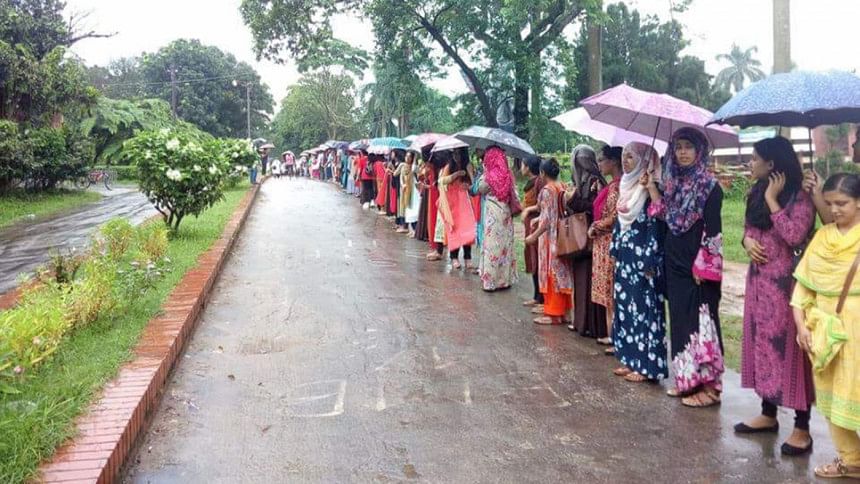 A female student of government and politics department of JU on Sunday filed a written complaint to the university authority demanding the punishment of some BCL men who allegedly threatened to "rape" of her. The BCL men allegedly issued the threat on social media platform Facebook.
The reformists under the platform of Bangladesh Sadharan Chhatra Odhikar Sangrakkhan Parishad had started an indefinite boycott of classes and examinations at all universities and colleges on May 14 after the government failed to issue a gazette notification on the prime minister's April 11 announcement of quota abolition in government jobs. It gave an ultimatum for publication of the notification by May 13.
On May 21, the quota reform demonstrators postponed their decision of boycotting examinations considering Ramadan and the prospect of "session jams" the strike may cause.
In April, students of public and private universities across the country took to the streets demanding reform in the quota system. The protesters blocked key points in the capital and roads and highways elsewhere.
At present, 56 per cent of government jobs are reserved for candidates from various quotas, while the remaining 44 per cent draw applications from the merit list.
Of the 56 per cent, 30 per cent are kept for freedom fighters' children and grandchildren, 10 per cent for women, 10 per cent for people of districts lagging behind, five percent for members of indigenous communities, and one percent for physically-challenged people.
In the wake of the protests, Prime Minister Sheikh Hasina declared the abolition of quotas on April 11, during a parliamentary session.