Dhaka city polls date changed to Feb 1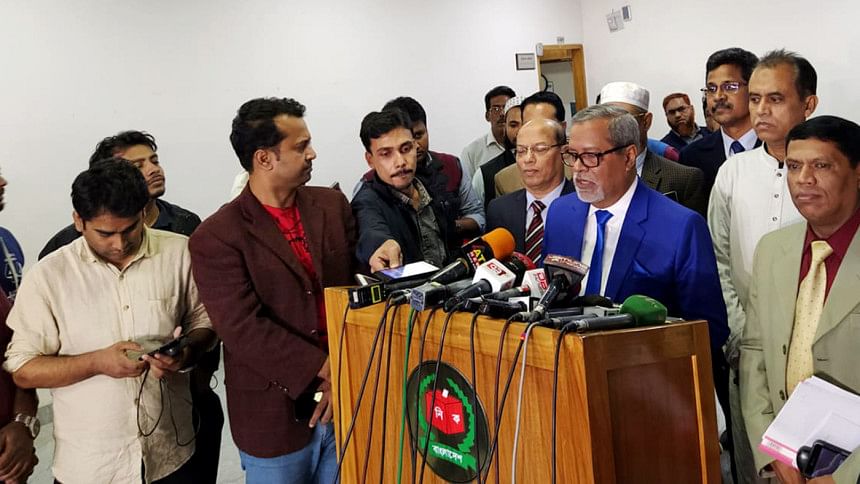 Election Commission today deferred the Dhaka city elections date to February 1, following increasing pressure from different quarters including the Hindu community and Dhaka university students.
The commission took the decision at an emergency meeting this evening, said Chief Election Commissioner (CEC) KM Nurul Huda.
Members of the minority community and others had been demanding deferral of the polls date -- January 30 -- since the first week of this month. Later, the BNP-led Jatiya Oikyafront and several mayoral candidates also joined in their demand.
The emergency meeting began around 4pm at the Election Commission Secretariat in the capital's Agargaon area.
Chief Election Commissioner KM Nurul Huda; election commissioners Mahbub Talukdar, Rafiqul Islam, Kabita Khanam and Brigadier General (retd) Shahadat Hossain Chowdhury; top EC secretariat officials and returning officers of Dhaka north and south city corporations attended the meeting.
Members of the Hindu community were stunned by the EC announcement on December 22 that the election would be held on January 30. From December 22, they started to criticise the decision on different social media sites.
They said the observance of Saraswati Puja would start at 9:10am on January 29 and continue till 11am on January 30 as per Loknath Panjika, a traditional annual Bangla calendar that the Hindus follow.
Saraswati Puja is observed at almost all educational institutions, where worshippers gather to offer prayers. Usually, polling centres are set up at different schools, colleges and universities.
On January 13, leaders of Bangladesh Hindu-Buddha-Christian Oikya Parishad and Bangladesh Puja Udjapan Parishad called upon the CEC to change the election date.
Students of Dhaka University had also been holding a fast unto death over the matter since January 16.
Election Commissioner Rafiqul Islam, however, said they fixed the election date keeping in mind that the Saraswati Puja, according to the government calendar, falls on January 29.