Chawkbazar Fire: Writ petition seeks compensation, punishment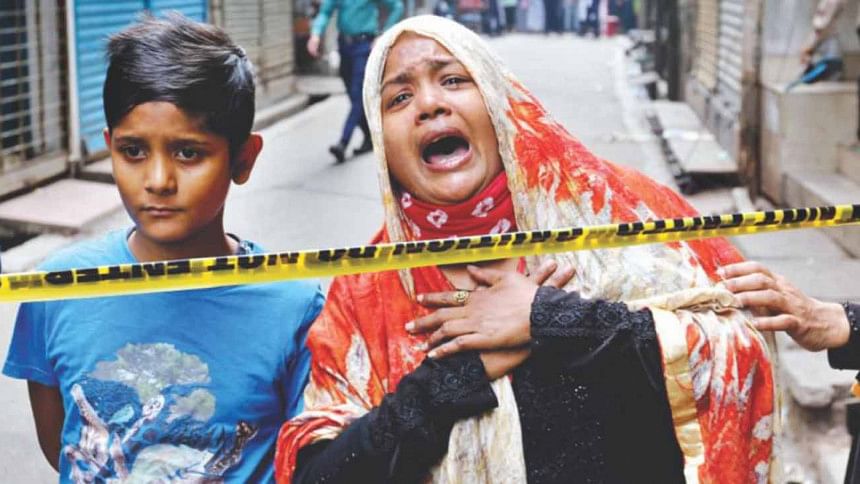 Four separate writ petitions were filed with the High Court yesterday in connection with the Chawkbazar fire, with different prayers including compensation for the victim families and punishment for those responsible for the incident.  
Advocate Eunus Ali Akond, a Supreme Court lawyer, filed one of the writ petitions seeking HC directive on the government to compensate each of the victim families with Tk 30 lakh.
He submitted the petition also seeking HC order on the government to form a judicial inquiry commission to find out the cause behind the fire at Chawkbazar in Old Dhaka, to identify those responsible for the blaze and take punitive action against them.
In the petition, he urged the HC to direct the government to relocate the chemical warehouses outside Dhaka and to demolish the unauthorised buildings in the area.
In the petition, Akond prayed to the HC to issue a rule asking the government to explain why its inaction to relocate the chemical warehouses from Dhaka after 2010 Nimtoli fire should not be declared illegal.
Citing the petition, he told The Daily Star that the government failed to ensure people's constitutional right to shelter, life and security in Chawkbazar area.
The HC may hold hearing on the petition tomorrow, he said.
Meanwhile, three other SC lawyers and an Old Dhaka resident have filed three separate writ petitions with the HC in connection with the same incident.
Among them, Advocate Shagufta Tabassum, and Barrister Nur Mohammad Azmi, Barrister Khandker Md Sayedul Kawser submitted two separate writ petitions praying to the HC to direct the government to relocate the chemical warehouses from Old Dhaka as per recommendations from the committee formed by the government in 2010 after the Nimtoli tragedy. 
Advocate Amit Das Gupta, lawyer for Nur Mohammad and Khandker Md Sayedul, told The Daily Star that his clients' petition might be heard by the HC today.
Old Dhaka resident Md Zabed Miah submitted a writ petition requesting the HC to issue a rule asking the authorities concerned to explain why they should not be directed to remove chemical warehouses and gas cylinders kept for commercial purpose from the area.   
A devastating fire broke out at Chawkbazar around 10:30pm on February 20, leaving 67 people dead.