Fire at Old Dhaka again, 3 suffer burns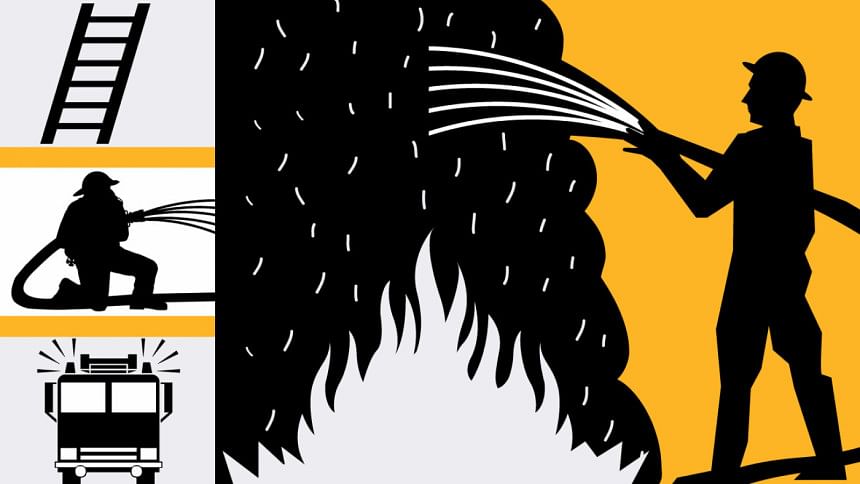 Three youths suffered "severe burns" as a fire broke out at a scrap-metal shop in Old Dhaka's Chawkbazar area this afternoon.
The fire originated at the scrap-metal shop in Kamalbagh area around 5:00pm, leaving two workers and younger brother of the shop owner burn injured, police and officials of Fire Service and Civil Defence said.
Soon after the fire started engulfing the surrounding areas, locals rushed to the spot and doused it with their own efforts, they said. Fire Service and Civil Defence officials primarily suspected that the fire might have originated from an explosion of a gas cylinder.
The injured -- Sumon, 32, Nur-e-Alam, 30, and Mohammad Suman, 28, -- are now undergoing treatment at the burn unit of Dhaka Medical College Hospital, Sub-Inspector Bachchu Mia, in-charge of the hospital unit police outpost, told The Daily Star.
Of them, Sumon sustained 18 percent burn injuries while Nur-e-Alam 30 percent and Mohammad Suman 26 percent, Bachchu Mia said.
The fire incident happened just 10 days after the fatal fire that broke out at a chemical warehouse in Chawkbazar area of Old Dhaka on Febarury 20, leaving at least 71 people dead.
WHAT HAPPENED AT CHAWKBAZAR?
A devastating fire broke out at Old Dhaka's Chawkbazar area around 10:40pm on February 20, leaving 67 people dead at the spot. Autopsies found all the victims were burned alive.
Later, four other people, who had been undergoing treatment at Dhaka Medical College Hospital with server burn injuries, died at the hospital in different times.  With those, the death toll in the Chawkbazar tragedy now stands at 71.
The victims are mostly pedestrians, people travelling on rickshaws and cars, residents of the buildings as well as owners and staffers of the shops and warehouses at the buildings.
The Chawkbazar fire, which sparked from a chemical warehouse, is the second deadliest chemical-fuelled fire in the country after the 2010 Nimtoli incident.