BRTA suspends plying of Suprobhat, Jabal-e-Noor buses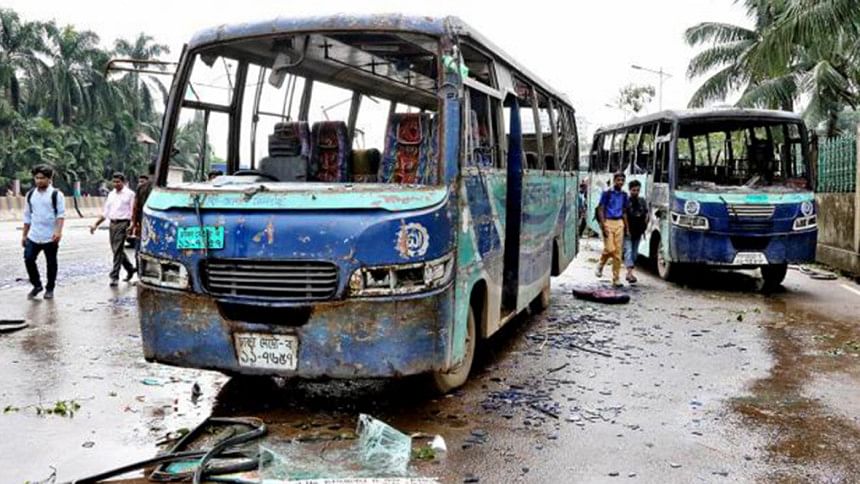 Bangladesh Road Transport Authority (BRTA) has suspended operations of all buses of Suprobhat and Jabal-e-Noor on Dhaka routes from today until further directives.
BRTA Deputy Director Shafiquzzaman Bhuiyan told The Daily Star that all 167 buses of Suprobhat Paribahan and 29 buses of Jabal-e-Noor Paribahan will remain out of operation until further instructions.
All buses and minibuses of Suprobhat Pvt Ltd that plies from Uttara Raniganj to Sadarghat (route no. A-138) and those of Jabal-E-Noor Paribahan plying from Basila to Abdullahpur (route no. A-138) will remain out of operations, according to the circular.
All documents of the buses and minibuses running under the two companies have been asked to be submitted within three working days to the BRTA authorities.
BRTA and Dhaka Metropolitan Police will decide upon the next course of actions after scrutinising the documents, the circular reads.
The directive has issued under section 72 of Motor Vehicle Ordinance 1983.
WHY JABAL-E-NOOR, SUPROBHAT BUSES SUSPENDED?
Two college students--Abdul Karim Rajib, 18, and Dia Khanam Mim, 17, -- were run over and killed by a bus of Jabal-e-Noor Paribahan on July 29, while nine others were injured. The death of the students sparked a wave of protests that brought Dhaka reeling to its knees.
The protests, actively participated by students of almost all educational institutions, lasted for more a week and put Bangladesh's capital on a standstill.
The government was forced to launch special drives and tough crackdowns in an effort to bring discipline on the streets and the transport sector but things turned into business as usual gradually.
Meanwhile, a university student was run over by an unruly bus of 'Suprabhat Paribahan' which was reportedly on a mad race yesterday.
Abrar Ahmed Chowdhury, himself a road safety campaigner, met this tragic end while Dhaka Metropolitan Police was observing traffic week to bring discipline on the city streets.
Son of Brig Gen (retd) Arif Ahmed Chowdhury, he was a first-year honours student of international relations department at Bangladesh University of Professionals (BUP). He was the elder of two brothers.
The death Abrar resonated by his peers has also led to a flare of protests in Dhaka.
The students are demanding capital punishment of the driver responsible for student's death yesterday, shutting down Jabal-e-Noor and Suprabhat buses, and foot over-bridges near all educational institutions.