Heavy rains in Dhaka, commuters suffer in gridlocked streets
103mm rain recorded in Dhaka in 24hrs
As the month of monsoon Ashar comes to an end, Dhaka dwellers woke up to waterlogged roads, after the capital saw a record 103mm rain in the last 24hrs till 9:00am today.
Many thoroughfares of Dhaka went under water resulting in hundreds of commuters especially office and school goers to suffer in the traffic jams triggered by the torrential rains.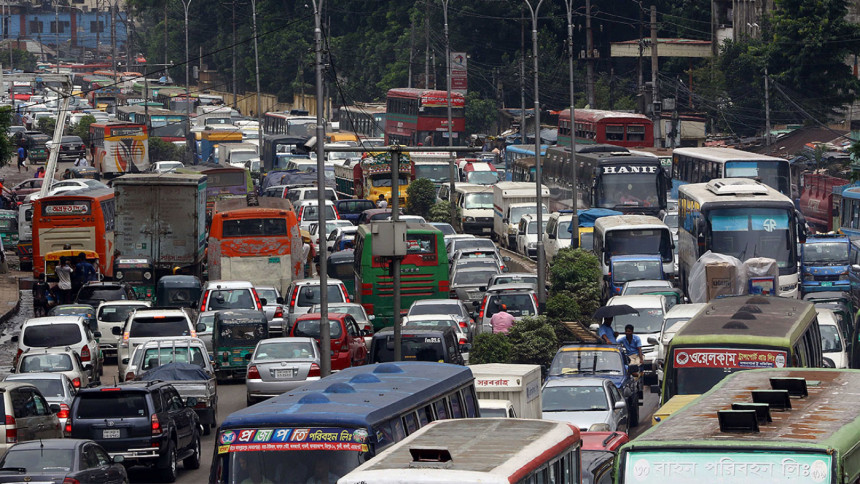 Vehicles were seen stranded for hours in unprecedented traffic jams. Many took to social media platform, Facebook, to vent their frustrations and share their experiences.
A photo showing a completely inundated Dhanmond-27 intersection with the caption "Welcome to Dhanmondi River View" was shared in the Facebook group Traffic Alert, which is created to share updates on the traffic situation of the city.
According to the weather forecast of Bangladesh Meteorological Department valid for 24hrs, 103 millimetres rain was recorded in the capital, Dhaka, during the period, making it the highest in the country till this morning.
Light to moderate rain or thunder showers accompanied by temporary gusty wind is likely to occur at most places over Rangpur, Rajshahi, Dhaka, Mymensingh, Khulna, Barisal, Chittagong and Sylhet divisions with moderately heavy to heavy falls at places over the country, according to the Met office.
UNB reports, the incessant rains lashed Dhaka leading to water-logging in many parts of the city. The worst affected areas include Mirpur 1, Dhanmondhi 27, Kolabagn, Mirpur-10, Kazipara, Rokeya Sarani, Bijoysharani, Farmgate and Karwan Bazar kitchen market, Moghbazar, Mouchak, Malibagh, Shantinagar, Kakrail, Khilgaon, Rampura, Motijheel, Arambagh, Fakirapul.
Many of them were seen wading through ankle to knee-deep water on the roads and by-lanes.
The Met office sources also said that the rain may continue till Thursday.