Where differences bow to brotherhood
Behind Anderkilla Shahi Jame Mosque's unique iftar arrangements
Hundreds of fasting Muslims, sitting on the floors, waiting to break their fast with the call for evening prayer -- such has been the everyday scene at the port city's Anderkilla Shahi Jame Mosque during the month of Ramadan for over a decade.
Fasting devotees from all across the city -- of all ages, social and economic classes -- assemble at the mosque premises after the Asr prayers every day to have iftar together.
In the afternoons, all differences and class barriers fail to the call of brotherhood.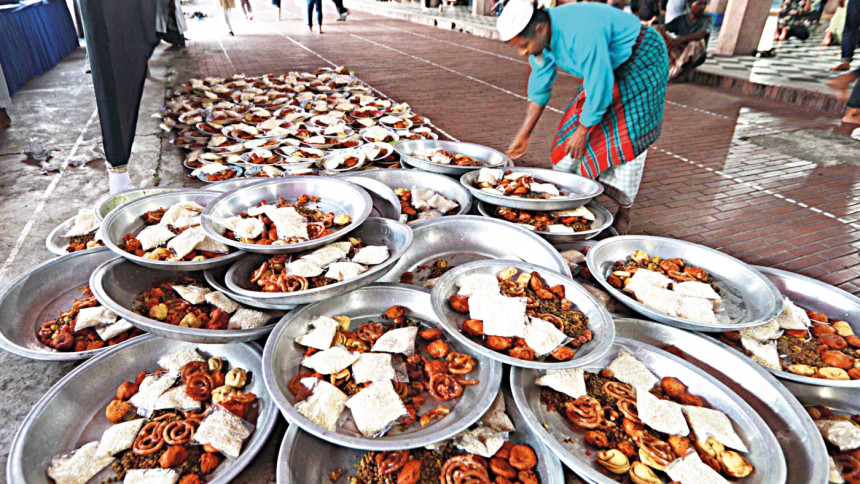 Andarkilla Shahi Jame Mosque bears the testimony of the Mughal era in Chattogram and is of immense historic value. The mosque was built by Shayesta Khan in 1667AD on the order of Emperor Aurangzeb to commemorate the Mughal victory over the region.
Maulana Saeed Muhammad Anwar Hossain Taher Jaberi Al Madani -- who has been the mosque's Khatib since 1996 -- initiated the iftar arrangements in 2001, according to sources.
In the early years, the arrangement used to be of a small scale. However, it took its present form in 2008. The practice came to a halt in 2020 due to the pandemic. But it's back with a new zeal this year, said organisers.
Around 400 people took part in iftar every day so far, said Mohammad Hassan Murad, the khatib's assistant.
"We will arrange iftar for 3,000 people after the 10th Ramadan and for 5,000 people from the 15th," he added.
Preparations for the iftar start in the morning, sponsored by well-off individuals who wish to remain anonymous, said Jainul Abedin, general secretary of the mosque committee.
Twelve cooks prepare the food, while 15 more "khadems" serve them during the iftar. Apart from regular traditional iftar items, seasonal fruits and biryani are also served occasionally.
Md Mamun, a rickshaw puller, said people from low-income backgrounds like himself, are greatly benefitted from this iftar at the mosque as the food is free of cost.
"Here, there is no discrimination between the rich and the poor. Everyone breaks their fast with the same food, sitting side by side on the floors," Mohammad Shahjahan, a student of Government City College, told this correspondent while joining the mosque's iftar yesterday.