Risks increase, initiatives don't
Open drains, canals pose more threats ahead of monsoon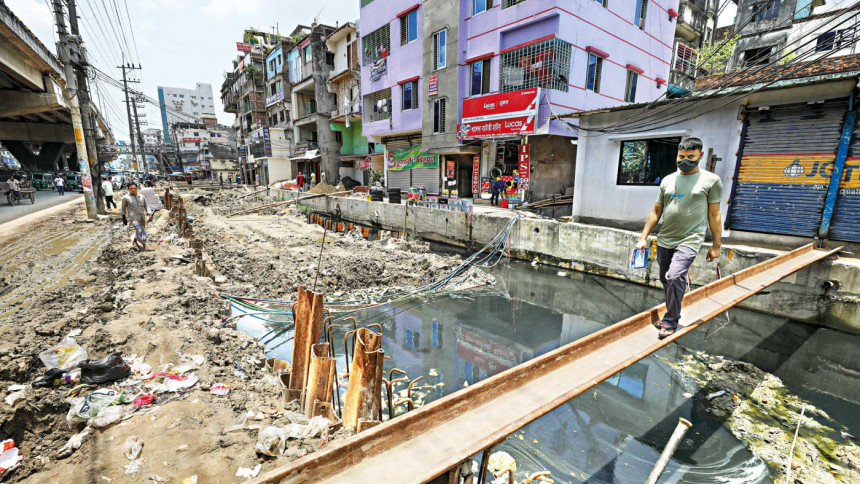 Accidents and casualties caused by open canals and drains are still fresh in the memories of port city residents. Yet the situation has not seen any significant improvement. Many canals and drains are left open, posing a threat of further accidents.
The city is gripped with even more panic as monsoon approaches.
While visiting different areas of the city last week, this correspondent found several canals and drains unguarded and filled with plastic waste.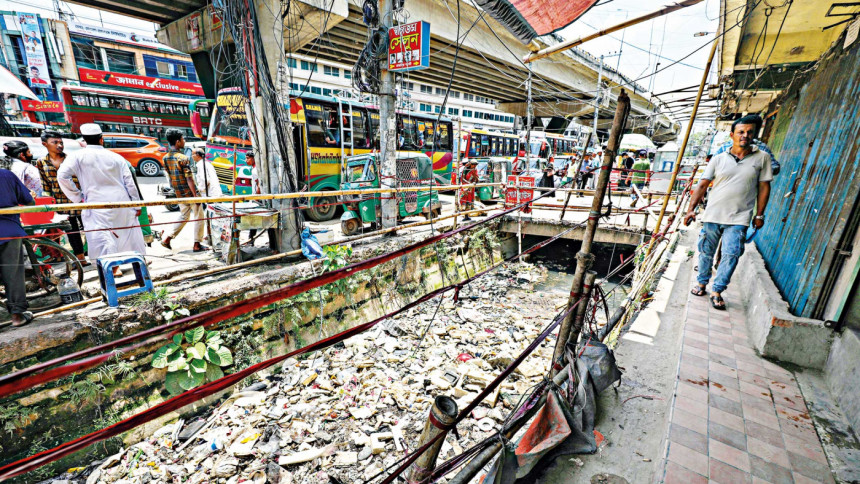 During the visit, retaining walls were not seen in many canals and areas, including Jamal Khan, Chatteshawri Road, Chaktai Khal in Chawkbazar Phooltola, Chashma Khal in Sholashahar and Osmania Khal in Kalurghat.
The issue is not a recent one. Accidents have been occurring at regular intervals over the years. Shilbrata Barua, a retired government official from Hathazari, slipped and fell into a drain while going to a wedding ceremony in Bakalia on July 3, 2017. On June 9, 2018, a child named Al Amin fell into a drain in the Amin Jute Mill area of ​​the city.
On June 30 last year, three people went missing after an auto-rickshaw fell into an open canal in Sholashahar's Chashma Hill area. The bodies of driver Sultan (35) and passenger Khadija Begum (65) were later recovered.
On August 25 last year, a vegetable trader named Saleh Ahmed (50) slipped and drowned in the rapid flow of drainage water in Muradpur. He was not found.
The isuue came to the fore of all discussions when 19-year-old university student Sheherin Mahmud Sadia died after falling into a drain at Agrabad intersection of the city on September 27 last year.
After her death, a bamboo fence was made to guard the drain, which was replaced by a brick wall blocking the footpath. It is yet to be known who built the wall. None of the authorities concerned admitted to building it.
On December 7 last year, 10-year-old Kamal Uddin fell into a drain at Sholashahar Railway Station area. His body was recovered three days after he went missing. The drain is still left unprotected.
Even on April 15 this year, divers of the fire service rescued a woman from Osmania canal in Kalurghat.
"I still remember Sadia's death. It keeps haunting me," said Taslima Akter, a student of Chittagong College living on Chatteshwari Road.
"We are in constant fear of such accidents, especially during the monsoon. I would like to request the authorities of Chattogram City Corporation (CCC) to take immediate steps to protect the canal," she added.
"The authorities concerned cannot avoid the responsibility of such deaths. They did not take any step to prevent the accidents," said town planner Subhash Barua.
According to CCC officials, there are 57 canals -- measuring 161 kilometres in total -- and 765 kilometres of drains in the city. After Sadia's death, CCC conducted a survey of risky spots around drains, canals and footpaths last year. After the survey, a total of 5,527 risky spots were identified, measuring up to 19 kilometres.
However, works on safeguarding the risky spots have allegedly seen little progress, said CCC sources, adding that over 70 percent of works are yet to be completed.
Contacted, CCC chief engineer Rafiqul Islam said works for installing slabs over open drains and building retaining walls by the canals are ongoing.
"Slabs have already been installed over 25,000 square feet of drains, while retaining walls have been built for 15,000 square feet of risky canals so far," he added.
This correspondent could not contact CCC Mayor Rezaul Karim Chowdhury as he was abroad.