CU HALDA RIVER RESEARCH LABORATORY
Country's first research centre to study rivers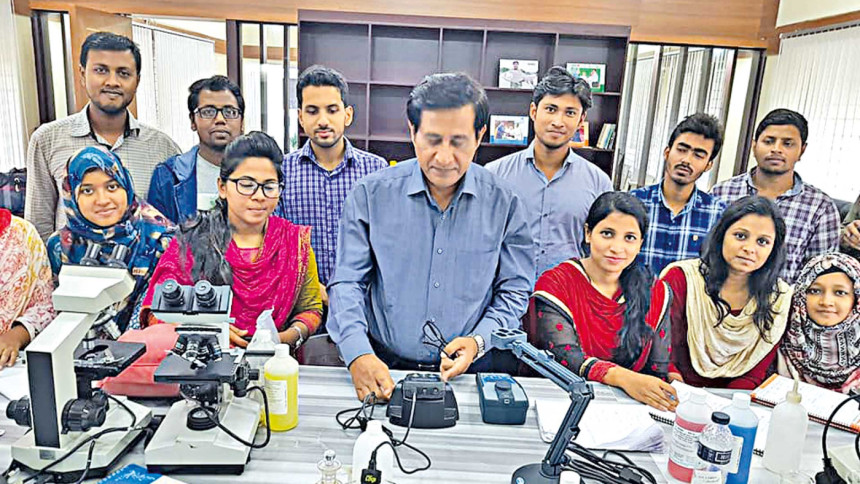 The journey of Halda River Research Laboratory started on August 20, 2017 in two abandoned rooms at the Department of Zoology at Chittagong University (CU).
Supported by Palli Karma-Sahayak Foundation (PKSF) and Integrated Development Foundation (IDF), the Halda River Research Laboratory is the first research centre of its kind to pursue research on rivers in the country.
Since its inception, the centre has been researching on the Halda and creating mass awareness to protect the river's ecology.
The 1,000-sq ft research centre has three branches. The specialised laboratory branch has equipment for water quality testing and river biological analysis.
Documents, published articles, project papers of all kinds of scientific research done on the Halda so far are being kept in the river museum and archive branch. The third branch is the Digital Conference Center where scientific discussions, presentations and video documentaries are held.
Mohammad Manzoorul Kibria, a professor and chairman of Department of Zoology at CU, was behind establishing the research centre.
Asked about the importance of Halda river, Prof Kibria said, Halda is the only river in the world from where indigenous carp eggs are collected directly. It's the lone natural gene bank of indigenous carp fishes in the country.
"It's one of the main sources of drinking water supply to the port city. Chattogram Wasa through two projects at Mohra and Madunaghat areas collects 18 crore litre water from the river per day. So the river's called the city's lifeline," he said.
He added that its also an important habitat of the endangered freshwater Ganges dolphins (Platanista Gangetica).
Prof Kibria said this laboratory is continuously running activities, including -- Halda dolphin survey; evaluating Halda's water quality, creating awareness and co-ordination between stakeholders.
Fifty university students have completed their academic research on various topics under this lab.
In 2022, full genome sequencing of four major carp fishes -- rui, katla, mrigel and kalibaus, and dolphins of the Halda were unveiled under this lab. In the same year, the Halda River Management Plan was formulated for the river's management. The lab in collaboration with Jahangirnagar University, completed the DNA bar coding of the Katla Brood fish in Halda river. According to Prof Kibria, this is a breakthrough in the river's research history.
"Our previous generation did some works on Halda but they are outdated. We'll have to depart one day. Does that mean research on Halda will stop? The next generation needs to be prompted to keep it going. The research centrr was made from this thought," Prof Kibria said.