Children finally get Laldighi Maidan back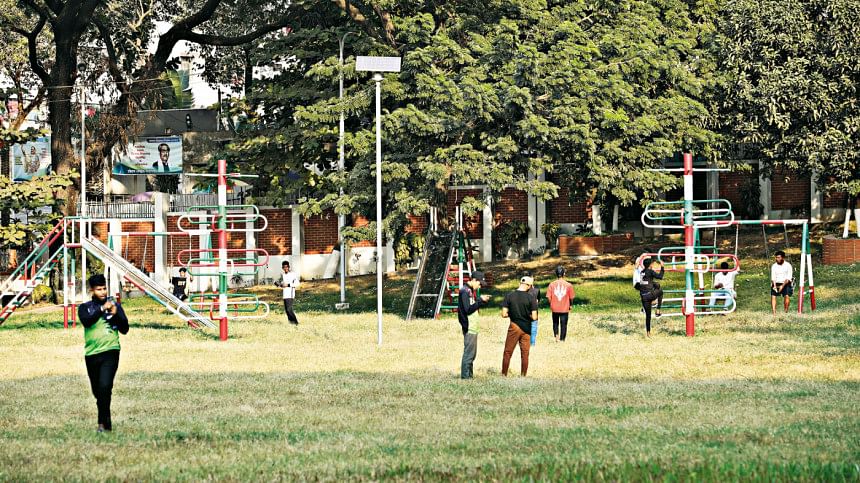 Chattogram's historic Laldighi Maidan, which had remained closed due to renovation for almost three years, finally welcomed children back on Monday.
Visiting the place on the day, this correspondent saw children of nearby schools playing cricket on the field.
Syed Ajmail Haque, a seventh-grader, told The Daily Star that they were happy for finally getting to play on their favourite field again. "We used to play here every day after school. But the field was closed for the last three years."
Echoing the same, Robayet Hasan, a sixth-grader, said due to lack of a playground, he couldn't play outdoor games near his residence. "As the field is now open, I can play here every day from now on."
The Education Engineering Department (EED) implemented a Tk 4-crore project to renovate the ground. Works started in February 2020 and were completed in 2021, said officials.
But the place was not opened for the public up until now, and the authorities couldn't clarify reasons behind the delay.
Prime Minister Sheikh Hasina during her recent visit to Chattogram on December 4, inaugurated the newly renovated Laldighi Maidan.
Yesterday, Deputy Minister for Education Mohibul Hasan Chowdhury formally declared the field open to the public.
He said students can play in this field from now on, while cultural organisations and political parties can organise programmes with permission from relevant authorities.
He said the Chattogram City Corporation would ensure cleanliness, while a committee comprising officials of Chattogram District Administration and Government Muslim High School would manage the field.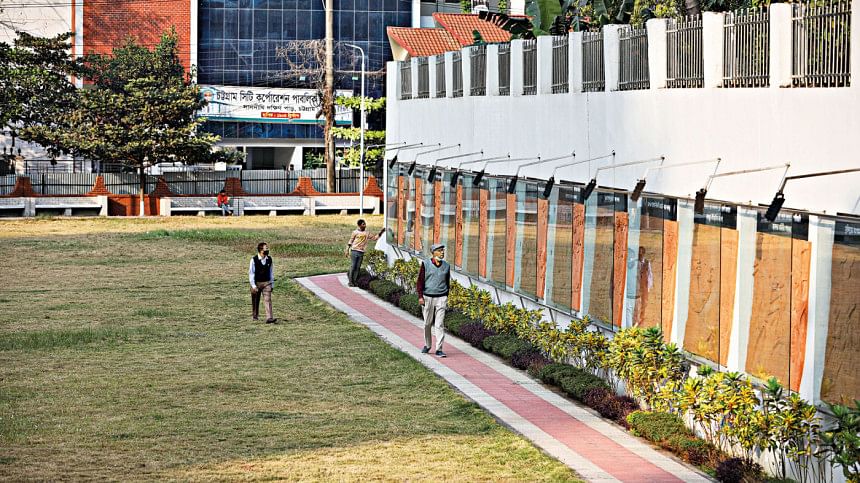 Abul Bashar Mohammad Fakhruzzaman, deputy commissioner of Chattogram, said a standard operation procedure (SOP) has been formulated for the ground's management. "Cultural organizations and political parties would be given permission to organise programmes here following the SOP."
Rajib Nandi, a retired schoolteacher, came to visit the ground yesterday. He said the theme of the renovation project was laudable, while the seating arrangements and walkway would benefit city dwellers.
The project planned to showcase the country's most historic moments, including the anti-British movement, Language Movement, six-point demand movement, mass uprising of 1969, and the Liberation War.
To commemorate the declaration of six-point demand by Bangabandhu, a stage named "Chhoy Dafa Mancha" has been built on the ground.
There are also 18 terracotta artworks depicting historic moments the country witnessed. There are also many portraits of historical figures, and a temporary Shaheed Minar.
Although the ground is known as Laldighi Maidan, the field officially belongs to Government Muslim High School, Chattogram. The school's students and children of Laldighi and adjacent areas use this ground for recreation.
Besides, 36 benches have been set up on the ground along with a 368-metre walkway.
Also, two eye-catching gates have been built. As the field would be encircled by a boundary wall, people will have to enter through the gates.