A festivity of syncretic traditions
Pahela Baishakh is a paragon of national and cultural unity and a form of resistance against divisive forces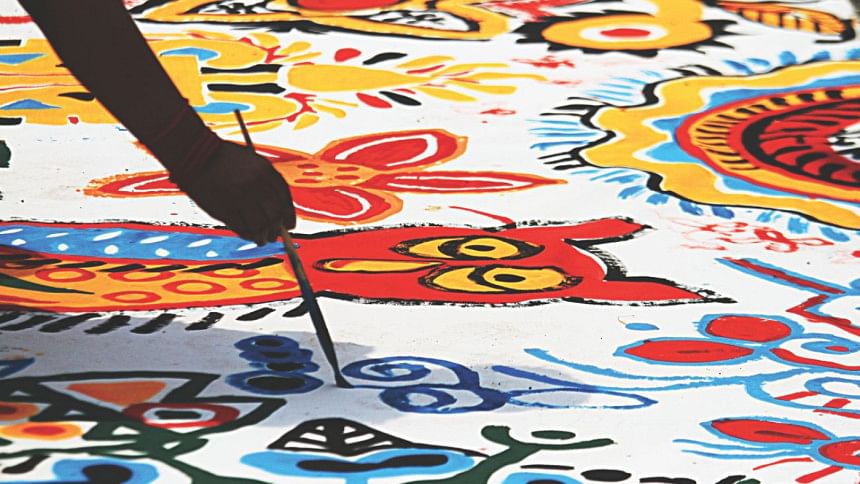 Pahela Baishakh is not only the country's largest secular festival but also part of a global celebration. It's part of a universal festivity of the New Year across different cultures and religions.
Amidst a global climate of heightened xenophobia and communal hatred, New Year celebrations of diverse peoples show that there still exists a space of common ground. In a world deeply polarised along religious, nationalist and racial lines, universal celebrations thwart the very idea of "us versus them" and take on renewed significance over time.
Last year, after we witnessed the deadliest terrorist attack in Bangladesh, we were faced with some disturbing new realities which to many seemed like the upshot of some sort of an identity crisis, the weakening secular foundation of our social fabric and increasing alienation of the youth.
And perhaps that is why, this time around, I am faced with a strange dilemma penning my thoughts on Pahela Baishakh and the secular, ethno-linguistic identity that Bangladesh was born out of. Where does the secular spirit of Pahela Baishakh stand in a milieu that no longer seems familiar? During times like these, what do celebrations like Pahela Baishakh mean in a land where ideological battle lines are being drawn?
Today, as we celebrate Bengali New Year 1424, I want to talk about Pahela Baishakh in a new light. That is to say, Pahela Baishakh as part of the largely secular and syncretic nature of not only Bangladesh but also New Year celebrations across the world.
The communalisation of Pahela Baishakh, in recent times, has become part of a broader ideological war. One of the most problematic narratives that have been advanced – and is gaining ground among some quarters of society – is that Pahela Baishakh is a 'Hindu tradition' that is not compatible with the 'Bangladeshi identity'. I will not go into this very flawed, absurd logic but I will say that those who propagate these views have very little knowledge of the centuries of syncretic history of Bengal.
The roots of Pahela Baishakh, the first day of the Bengali calendar, can be traced back to the Mughal period during which Bengal was known as the 'Paradise of the Nations' due to its impressive trade and wealth. During the rule of the third Mughal Emperor Akbar, who was then at the helm of one of the most powerful empires on earth, the Islamic Hijri calendar was fused with the solar calendars to ease tax collection. Since the lunar Hijri calendar did not coincide with the agricultural cycle Akbar sought the help of his royal astrologer Aamir Fatehullah Siraji to come up with the revised calendar, originally known as Fasli San (agricultural year), so that farmers wouldn't have to pay taxes out of season. Akbar, known to have a pretty big ego, made sure to include the dates of his coronation in the revised calendar. Thus, the formula for the Bengali year is: Islamic year of Akbar's crowning (963) + current Gregorian solar year (2017) – Gregorian solar year of Akbar's crowning (1556) = 1424.
Some historians floated the idea that Akbar's interest in theology and philosophy may have resulted in him wanting a combined calendar, but this theory didn't seem to have much credence. Another little known hypothesis attributes the development of the Bengali calendar to the King of Gaur, Sasanka because the starting date falls squarely within his reign.
It is interesting to note that the dates of Durga Puja and Kali Puja, when calculated according to the Bengali calendar, take into account the coronation of Akbar and Prophet Muhammad's (pbuh) migration from Mecca to Medina (the date of the Hijra is the first year of the Bengali calendar).
Thus the 'logic' behind the divisive rhetoric surrounding Pahela Baishakh falls flat to anyone with a modicum of understanding of how the Bengali calendar came about. Not to mention it also ignores the complex realities of the agrarian economy of Bengal in which the Bengali calendar proved essential for agricultural tax collection, ensuring that dues are paid off by the last day of Chaitra and other economic purposes.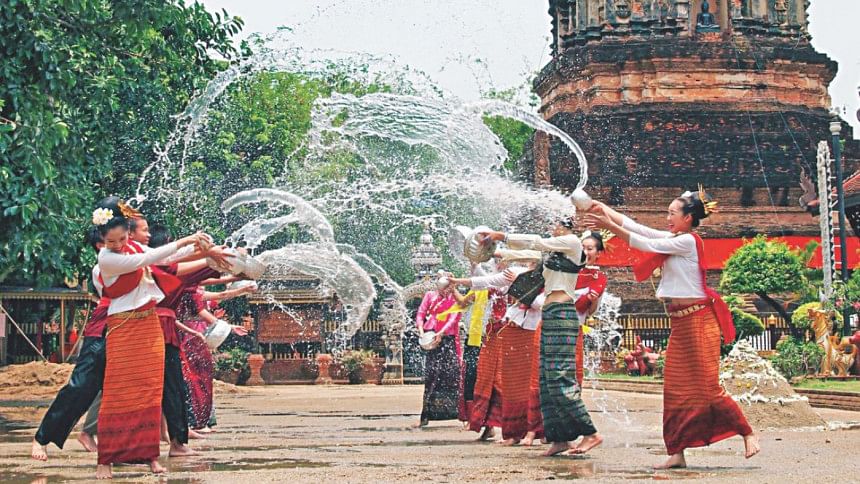 The Bengali calendar is a symbol of religious harmony and coexistence that has long defined this region. Not only that, celebrations of Pahela Baishakh are a reminder of our hard-earned nationhood and our collective struggle to break free from the shackles of cultural oppression.
Chhayanaut, the country's leading cultural school which has become synonymous with Pahela Baishakh celebrations, was a locus of cultural resistance during the Pakistan era. In 1961, a group of activists (including Begum Sufia Kamal and Waheedul Haq) courageously defied the ban on Rabindra sangeet that the Pakistani regime had imposed to celebrate the birth centennial of Rabindranath Tagore. That set the grounds of what Chhayanaut would eventually become decades later – an institution upholding our rich cultural heritage through the power of art.
It is not just Bangladesh of course which is in the grip of a rising tide of fundamentalism. The brands of xenophobic, extremist Buddhist nationalism in Myanmar and militant, chauvinistic Hindu nationalism in India are no less violent. These polarising forces that view 'culture' and 'religion' as mutually exclusive and impose an identity on the majority are challenged when cultural unity triumphs.
The Hindu new year festival of Vishu (which means 'equal') celebrated on the first day of the Malayali calendar in Kerala and Tulunadu region of Coastal Karnataka (where it is called Bisu) is yet another example of this. On this day, Muslims and Christians along with their Hindu neighbours don new clothes, give money to children and take part in the cultural activities of the day.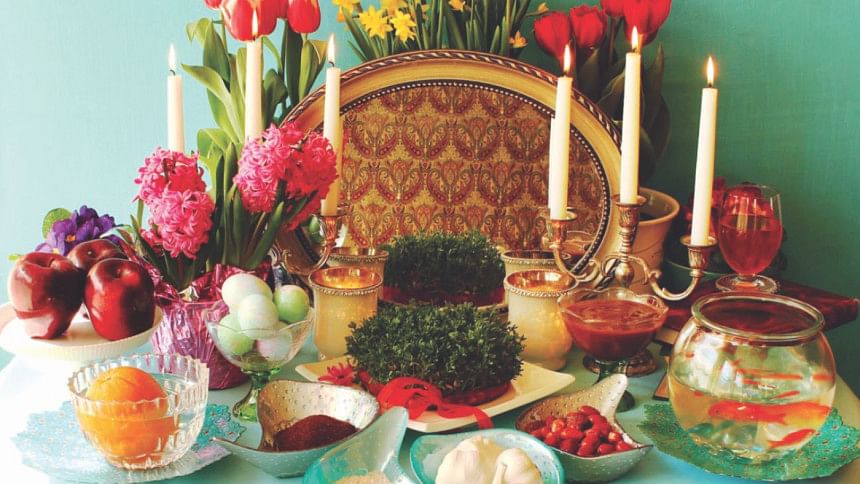 For Malayali Hindus, the practice of 'Vishu Kani', literally translated to 'that which is seen first on Vishu', holds special significance. There is a traditional belief that whatever one sees first on that day will be a sign of what the future holds. Malayali Hindu women spend the day before setting up a tray with auspicious items – such as rice, golden lemon, coconuts, betel leaves, Hindu scriptures – to be seen the first thing in the morning of Vishu. This ceremonial preparation is considered to be the omen of good luck and prosperity. 
Moving away from South and Southeast Asia, Nowruz (which means 'new day') has been celebrated in many parts of the Middle East and Central Asia for over 3,000 years. Believed to have its roots in Zoroastrianism, a monotheistic religion founded in Iran, Nowruz is also known as the Iranian New Year or Persian New Year. A secular holiday for most celebrants, Nowruz ushers in the vernal equinox and marks the first day of spring. It is a celebration of nature's rebirth and lasts two whole weeks.
Nowruz is celebrated across borders and cultures in Afghanistan, Albania, Azerbaijan, Kazakhstan, Turkey, Kyrgyzstan, India, among others. It is one of the very few secular observances in a region (Middle East) which remains embroiled in sectarian conflicts and civil wars.
A time-honoured tradition of Nowruz is Haft-Seen (the seven seen's) which is the display of an arrangement of seven items symbolic of what one wishes to bring into the New Year. The items all start with the letter S, some of which are samanu (sweet pudding for affluence), senjed (Persian dried olive for love), and serkeh (vinegar for wisdom and patience). On the thirteenth day of the new year in Iran, the final ritual takes place when people spend the day picnicking with family, as part of the Sizdah Bedar ceremony, and throwing away the greenery collected for Haft-Seen.
Like Nowruz, festivities of Songkran (meaning 'transformation'), the Thai new year, transcend nations and cultures. It is celebrated by various communities in Malaysia, northeastern India, and Chittagong Hill Tracts in Bangladesh. Songkran is largely known for its water festival (known as pani khela in Bangladesh) which is a ritual meant to display respect for water – an essential element for the agricultural life of Southeast Asia. Water is poured onto statues of Buddha which represents washing away of one's sins and bringing good luck.
New Year celebrations are, for diasporas, a form of shared identity and a source of belonging to a foreign place. For example, celebrations of Pahela Baishakh of the Bangladeshi community and Sinhalese New Year of the Sri Lankan community in the United Arab Emirates are carried out with much fanfare and pomp. For these expatriates, cultural celebrations exude a feeling of 'home away from home' which are sometimes carried out with much more grandeur than back home.
Most New Year observances are seasonal harvest festivals that have agricultural roots and have over time transformed into an important marker of cultural identity. The origins of Pahela Baishakh, Vishu, Songkran, and Nowruz are related to harvest and sowing of seeds and can be traced back to astrological, agricultural and economic reasons.
Historical commonalities aside, the fact that today Muslim, Buddhist and Hindu-majority countries still come together to celebrate the New Year with similar hopes of prosperity and spiritual wellbeing is a testament to the power of shared values. Most importantly, these celebrations, at a time when extremist ideologies are making headway in both the East and the West, are a form of resistance against communal-minded provocateurs who seek to create artificial divides by promoting a false majoritarian logic.
The writer is a member of the editorial team at The Daily Star.