Dorm-life upgrade: App-based washing machines in public university halls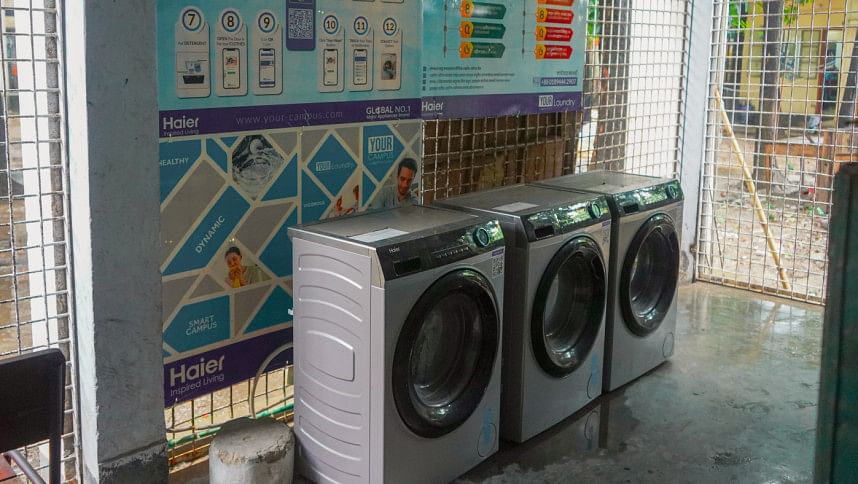 As a student residing in a university hall, the responsibilities and concerns of daily life are numerous – ranging from academics and maintaining grades to tutoring students as well as managing expenses. Amidst this long list of priorities, laundry, and ensuring sustenance become additional burdens. In such circumstances, the prospect of spending a few extra bucks to use a washing machine or a vending machine seems quite appealing.
One IoT (Internet of Things) based service platform in Bangladesh that aims to solve this predicament is Your Campus – owned and run by Get-Aid Ltd. Your Campus currently operates within 95 residential halls across various public universities. They provide accessible vending machines for snacks and beverages as well as convenient washing machines for student use.
The whole process is done through a mobile app and students can download it and create an account using their affiliated hall and personal information. There is a credit system in which one credit equals one taka. Every wash costs BDT 50 or 50 credits. There are several packages such as 20 washes for 600 credits, 10 washes for 350 credits, and five washes for 200 credits. You must reserve your machine to use it at your desired time and date. The rest of the work is done after you go to the washing machine where you have to scan it and put in the detergent.
Students who do not want to invest their labour in washing clothes, view it as a relieving solution. Suriya Fatima of Bangladesh-Kuwait Maitree Hall of the University of Dhaka says, "The addition of washing machines is a positive for me. It was troublesome to wash heavy blankets and quilts but now I can wash them without fretting too much, hall life has gotten much easier." 
The scene is similar for residents of Kabi Jasimuddin Hall. Musaddekun Nobi says, "It usually takes fifteen taka per piece of clothing to be washed and ironed in our halls so it's quite affordable in contrast to other laundromats. The vending machines do not take cash so that's the only issue but you can use your credits to buy snacks."
While a fee of BDT 50 for a single wash may appear reasonable, it's essential to acknowledge that within our economy, there are students who not only have to support themselves but also their families. In the context where BDT 50 can provide a meal from the canteens, the decision to spend this amount on washing clothes becomes a significant trade-off for many. Not every student has the ability to buy a package that others may call a "good deal". Hence, some students end up having to wash their clothes manually.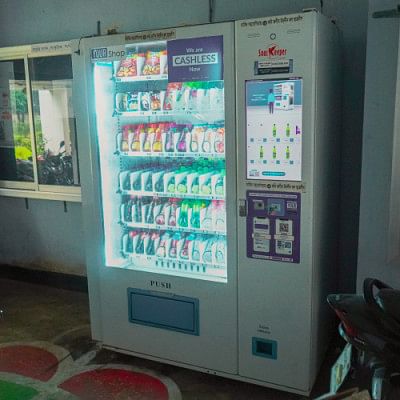 Vending machines offer a convenient option for quick snacks and beverages but they do not adequately address the important issue of providing students with proper nourishment. Ensuring students have access to high-quality food typically requires a significant financial investment or the ability to prepare their own meals. However, many students struggle to find the time for cooking and often rely on canteens and vending machines as their primary source of sustenance.
Many students who live in university halls of residence often face financial challenges, and they typically prioritise investing in essential items necessary for their daily lives. While initiatives like this aim to make students' lives easier, it's crucial to ensure that they cater to the needs of the majority of students. While these initiatives may seem ideal, larger issues persist.
Azra Humayra is a student of the University of Dhaka