Everything you need to know about Mobile Number Portability
Bangladesh becomes the 72nd country in the world to get Mobile Number Portability, but how much do we know about it and is it all that it's hyped up to be?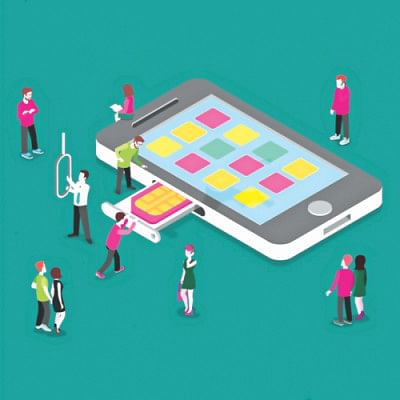 What is Mobile Number Portability (MNP)?
Mobile Number Portability lets you use any operator of your choice without having to change your number. The MNP service has been launched by the Bangladesh Telecommunication Regulatory Commission (BTRC) on a trial basis for now. So you can now change your carrier to avail offers, call rates, internet packages, etc. according to your preference.
How to change operators?
Customers can change operators while keeping the same number by visiting the new operator's customer care centre. They will be charged Tk. 50 to change carriers within 72 hours as well as a 15 percent value-added tax. Customers can also pay an additional Tk. 100 in order to move on to their new operator within 24 hours, bringing the grand total to Tk. 157.50 as the cost of a quick and easy switch. If customers do want to change back to their old operators then they will have to wait 90 days before repeating the aforementioned process.
The benefits of Mobile Number Portability
For one, the days of passing out your new number to people will be over. With MNP in place, businesses and individuals with an endless caller list will not have to worry anymore about passing out Facebook updates and new business cards.
Once MNP hits the mainstream and everyone is changing their operators, carriers will have to focus on better customer care, network coverage and an overall fine-tuning of all their services. This will also boost competition within the Telecommunication industry and make way for varied offers and packages as opposed to the price wars that have been ongoing for some time now.
The cons of Mobile Number Portability
If you do decide to switch your operator then the biggest drawback will be the fact that you would lose all special services and privileges you got from your old operator. And once you do make the switch, there's a one to three-day waiting period during which your number will be switched off. Not to mention that if you face any issues with your new operator, you would have to wait 90 days before going back to your old operator. With a new operator, there will be a host of new features and service-specific nuances that will take some time getting used to. Another depressing drawback would be that phone numbers will lose their specific identities and we would no longer be able to tell who's using which operator.
Despite the nitpicky cons, Mobile Number Portability is a great initiative, one that can jump start some much-needed change and competition in the local Telco industry.