Robi gains most from MNP
106,343 switched operators in three months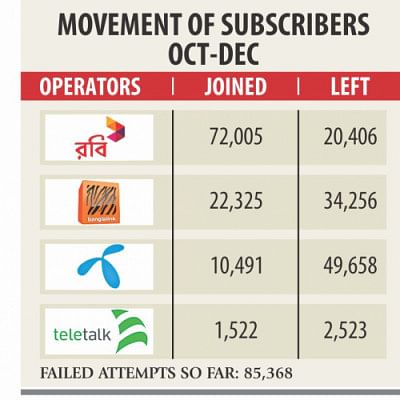 Robi gained about two-third of the customers that have switched operators by way of the mobile number portability (MNP) service in the first three months of its roll-out.
Since its launch on October 1 last year, 106,343 users switched operators while retaining their 11-digit numbers -- and 72,005 of them went to Robi, which is the highest.
However, 20,406 customers also left Robi, so the operator's net customer gain thanks to the service is 51,599.
Robi now fears the service—which was rolled out more than a decade after it became available globally—is losing steam.
"We are concerned that overall MNP number is going down," said Shahed Alam, head of regulatory and corporate affairs at Robi, while calling for awareness programmes on the facility to make the initiative a success.
Grameenphone, the country's largest mobile operator, had 10,491 new customers come on board thanks to the service, while 49,658 customers also left. On balance, the operator lost 39,167 subscribers.
"We respect our customers' freedom of choice through MNP and are equally happy to welcome new customers into our strong network," said Sayed Talat Kamal, head of communications at Grameenphone.
Banglalink, the country's third largest mobile operator, gained 22,325 customers and lost 34,256 users, meaning its subscriber base was 11,931 less thanks to MNP.
State-owned Teletalk came last in both the segment. It got 1,522 customers from others, while 2,523 departed from its network.
Industry insiders said the rush to switch operators availing the MNP facility, which was rolled out by the government after much delays, was not as frenzied as expected.
One of the reasons, they think, was the cost: there was a SIM tax of Tk 115 and a service charge of Tk 57.
But the National Board of Revenue on Sunday withdrew the SIM tax of Tk 115, meaning users will now have to count just the service charge of Tk 57 for using the MNP service.
Mohammad Zulfikar, chief executive officer at Infozillion Teletech BD, the lone MNP service provider, hopes the new initiative will make more people interested in switching operators while retaining their existing number.
Alam echoed the same.
Bangladesh introduced MNP, becoming the 72nd country to do so, with the view to increasing competition and egging on operators to improve their service quality.
According to the guideline, any customer can switch networks while retaining their existing number. The benefit can be availed every 90 days.
Some 85,368 attempts were made to switch networks since October 1 last year but those failed on different grounds.